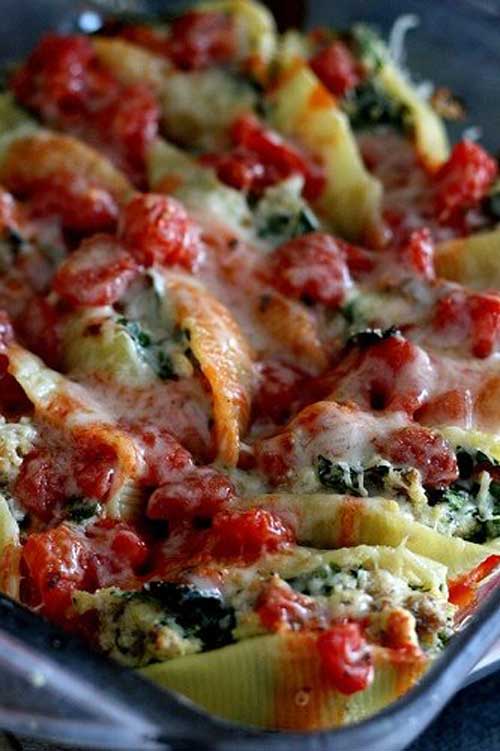 This is really pretty easy to make and true Italian comfort food! It is a great twist on traditional lasagna.
Ingredients
1 (12 oz.) box jumbo shells
1 lb. (approximate) sweet Italian sausage, casings removed
1 medium red onion, finely chopped
10 Ounces frozen spinach, thawed and drained
15 Ounces fresh ricotta
1 egg
1/4 cup freshly grated parmesan
2 cloves of garlic
Large can of tomatoes, roughly chopped
6 ounces of tomato concentrate
1/2 cup vodka
1/2 teaspoon dried red pepper flakes
2 handfuls of fresh basil
1/2 cup mascarpone
8 ounces mozzarella cheese, shredded
Instructions
Bring a large pot of salted water to boil. Cook jumbo shells until al dente. Drain and set aside to cool slightly.
Meanwhile, in a large skillet cook Italian sausage and onion. Remove from heat and drain any excess fat. Place in large bowl, and cool slightly. Add ricotta cheese, Parmesan cheese, egg, spinach, garlic, salt, and pepper. Mix well and set aside.
In another skillet over medium heat, combine tomatoes, tomato paste, vodka, red pepper flakes, and salt. Bring to a boil, then reduce heat and simmer until sauce thickens, 15 to 20 minutes. Add in mascarpone cheese, stirring constantly until fully melted add the basil and reheat.
Preheat oven to 350°F. Begin assembling stuffed shells by filling each shell with a spoonful of meat mixture. Place in large baking dish. Pour tomato sauce over shells. Sprinkle mozzarella cheese on top of shells, and place baking dish in oven. Bake until mozzarella is hot and bubbly on top, about 10 to 15 minutes.