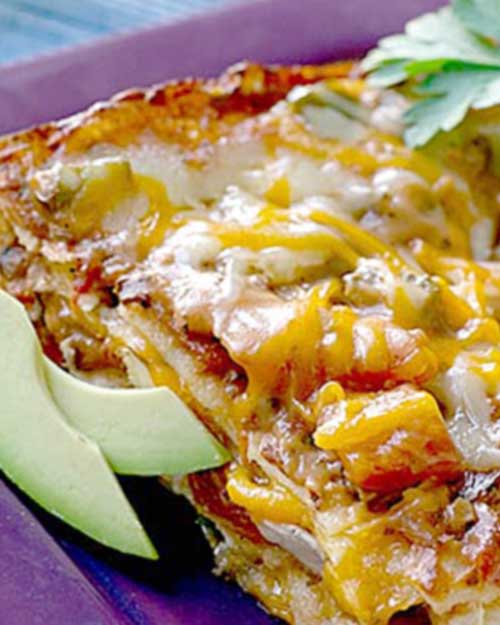 Recipe for Enchilada Lasagna – It's our classic one-dish wonder. This Mexican casserole is like a big fat lasagna, with layers of tortillas instead of the traditional noodles.
Ingredients
One 3-pound chicken, boiled, deboned, and cut into bite-sized pieces (save the broth)
2 Tablespoons vegetable oil
1 cup onion, chopped
1 cup bell pepper, chopped
1 Tablespoon dried oregano
One 10 oz. can cream of chicken soup, low fat (condensed)
One 10 oz. can cream of mushroom soup, low fat (condensed)
Two 10 oz. cans chopped tomatoes
2 oz. pound cheddar cheese, grated
2 oz. pound Monterey Jack cheese, grated
12 corn tortillas
Instructions
Boil chicken, covered in water, for 30-40 minutes until done. Remove from broth and let cool to touch. Preheat oven to 350° F.
Heat the vegetable oil until hot. Add the onion, bell pepper, and oregano and sauté until onion is translucent.
Remove from heat and add the chicken soup, mushroom soup, and the canned tomatoes (including juice). Stir to combine.
Dip the tortillas into the warm chicken broth for a few seconds, one at a time, and make a layer across the bottom of the pan (9″ x 13″ baking dish) with four of the tortillas. (Cut to fit, if necessary.)
Sprinkle half of the chicken across the layer of tortillas. Spread 1/3 of the soup mixture over the chicken and sprinkle 1/3 of the grated cheese.
Repeat with another layer of tortillas, chicken, soup, and another 1/3 of grated cheese.
Dip the remaining tortillas in the broth and layer across the top. Spread the remaining soup mixture over the top and sprinkle with the remaining cheese. (If you've prepped the day before cooking, cover the dish in Saran™ Premium Wrap and place in the fridge overnight.)
Bake in the oven for 30-45 minutes until hot and bubbly and slightly browned. Serve hot and enjoy.
Recipe adapted from: RightatHome.com