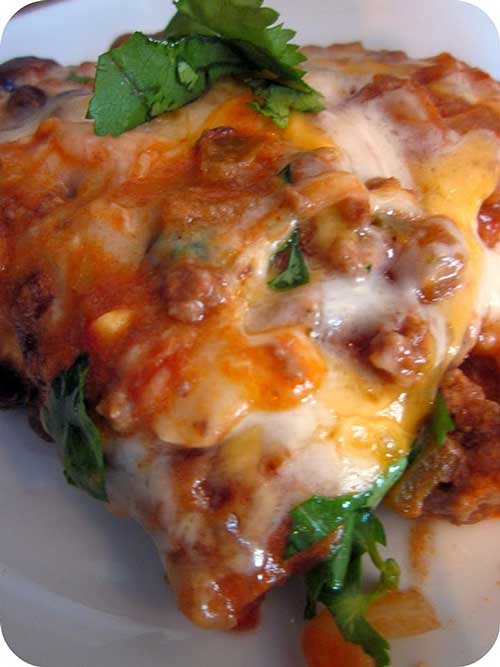 Here is a simple casserole that will have them all running to the table. Give them all the yummy goodness of enchiladas right from the oven.
Ingredients
1 pound lean ground beef (90% lean)
1 large onion, chopped or season with Onion powder or minced onion
2 1/2 cups salsa
1 can (15 ounces) black beans or red kidney beans, rinsed and drained
1/4 cup reduced-fat Italian salad dressing
2 tablespoons reduced-sodium taco seasoning
1/4 teaspoon ground cumin
6 flour tortillas (8 inches)
1 small can of drained corn, or about 1 1/4 cups of frozen corn (optional)
3/4 cup reduced-fat sour cream *Note: I used 1/2 cup
2 cups (8 ounces) shredded reduced-fat Mexican cheese blend
1 cup shredded lettuce
1 medium tomato, chopped
1/4 cup minced fresh cilantro
Instructions
In a large skillet, cook beef and onion over medium heat until meat is no longer pink; drain.
Stir in the salsa, beans, dressing, sour cream, corn (optional), taco seasoning and cumin.
Spoon a generous layer of meat mixture on bottom of 2 quart baking dish. Sprinkle with grated cheese.
Place a flour or corn tortilla on top of meat mixture. Layer with half of the meat mixture, and cheese. Repeat as many layers as you like.
The last & final layer should be a healthy dose of grated cheese.
Cover with foil that has been sprayed with pam or other and bake at 400° for 25 minutes, or until hot & bubbly.
Let stand for 5 minutes before topping with lettuce, tomato and cilantro.