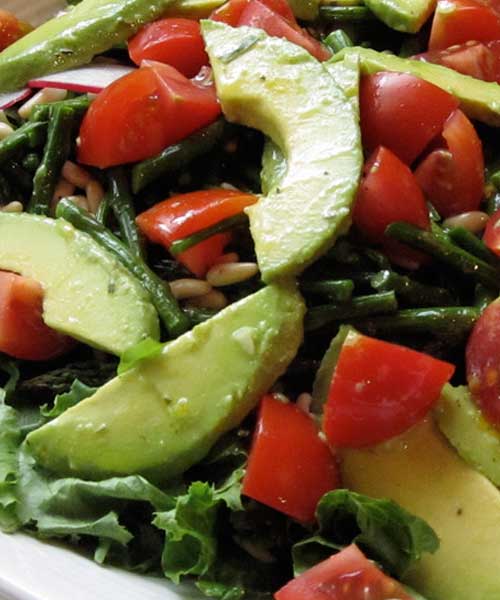 Meyer lemons are just brilliant. The sweet mandarin orange and lemon hybrid is the perfect citrus for just about any dish. It is much more sweet and less tart than a typical lemon.
Ingredients
For the Salad:
1 bunch asparagus
tomatoes
radishes
avocado
red onion or shallot
dried cranberries
pine nuts, toasted
blue cheese, goat cheese or feta cheese
spring mix or any lettuce mix
For the dressing:
Juice and zest from 1 meyer lemon (about 1/4 cup)
2 tablespoons white wine vinegar
1 teaspoon honey
1 teaspoon dijon mustard
1 clove garlic, minced
1 tsp herbs de Provence
salt and pepper to taste
1/3 – 1/2 cup olive oil
Instructions
Preheat oven to 375. Toss asparagus with olive oil and salt and pepper. Roast until crisp tender, about 10-15 minutes depending in the diameter of the asparagus.
For the dressing, combine all ingredients in a jar and shake until well mixed.
When asparagus has cooled, chop into bite size pieces (about 1-2 inches)and add to a large bowl with remaining salad ingredients. Pour salad dressing over the top and mix to combine.
Recipe adapted from Thefifthtine.com