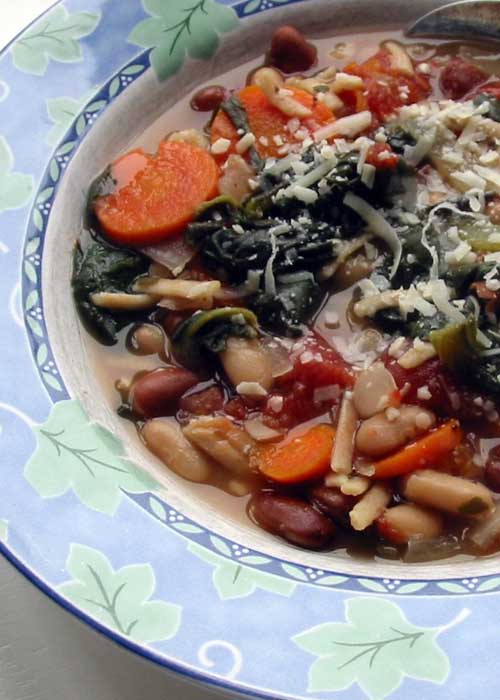 The classic Italian vegetable and bean soup, right from your slow-cooker. Delicious, nutritious, and most importantly; EASY!
Ingredients
1 medium onion, halved crosswise, cut into thin wedges
1 garlic clove, minced
1 stalk celery, coarsely chopped
2 medium carrots, cut into 1/2-inch slices
2 (14 1/2-oz.) cans ready-to-serve chicken broth
1 (19-oz.) can white kidney or cannellini beans, drained, rinsed
1 (15 1/2- or 15-oz.) can kidney beans, drained, rinsed
1 (14 1/2-oz.) can Italian-seasoned stewed tomatoes, undrained, cut up
1/2 teaspoon salt
1/8 teaspoon pepper
1 cup frozen cut leaf spinach, thawed, squeezed to drain
3 oz. uncooked spaghetti, broken into thirds (3/4 cup)
Instructions
In 3 1/2- to 4-quart slow cooker, combine all ingredients except spinach and spaghetti; mix well.
Cover; cook on low setting for 7 to 10 hours or until vegetables are tender. (You can cook this on high, and reduce cooking time by half)
Stir in thawed spinach and spaghetti. Increase heat to high setting; cover and cook an additional 15 to 20 minutes or until spaghetti is tender.
Photo credit: lynn.gardner / flickr.com / CC BY-NC-SA