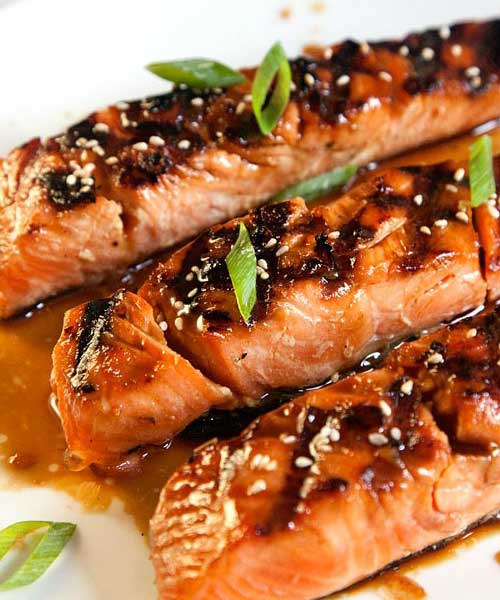 In the Japanese kitchen, "teriyaki" means a dish that's glazed and grilled or broiled. Jarred versions of sweet-salty teriyaki sauce are available, but it's so easy to make from scratch, and so versatile, that we make our own and slather it onto salmon—as well as chicken, vegetables, and other fish—before cooking, which allows the sugars in the sauce to caramelize, for a deep, rich flavor.
Ingredients
¾ cup soy sauce
¾ cup mirin
6 tbsp. sake
¼ cup sugar
6 4-oz. skin-on salmon filets
1 scallion, green part only, cut into 2″ lengths and thinly sliced lengthwise
2 tsp. toasted sesame seeds
Instructions
Bring soy sauce, mirin, sake, and sugar to a boil in a 2-qt. saucepan over medium-high heat, stirring until sugar dissolves; remove from heat and let cool to room temperature. Place salmon in a resealable plastic bag, and pour over soy sauce mixture; seal bag, and refrigerate at least 4 hours.
Build a low fire in a charcoal grill or heat a gas grill to medium-low. (Alternatively, heat a cast-iron grill pan over medium-low heat.) Remove salmon from marinade and set aside on a plate to come to room-temperature. Meanwhile, pour marinade into a 2-qt. saucepan, and bring to a boil over medium-high heat; cook, stirring occasionally, until reduced by half, about 15 minutes.
Place salmon on grill, and cook, turning once and basting with boiled marinade regularly, until just cooked through, about 9 minutes. Transfer to serving plates, and drizzle with remaining marinade; garnish with scallions and sesame seeds.
Recipe and Photo Courtesy of Saveur