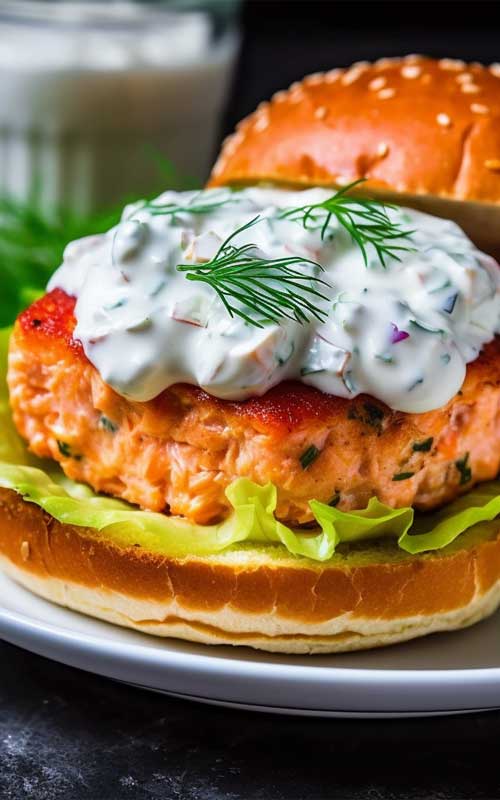 Hey there, fellow food enthusiasts! Are you tired of the same old beef or chicken burgers? Looking to add a touch of elegance and deliciousness to your summer cookouts? Well, look no further, because we have a mouthwatering recipe for you: Salmon Burgers with Dill Tartar Sauce. This delectable twist on the classic burger will have your taste buds dancing with joy. So, let's dive right in and explore the wonderful flavors of this delightful dish!
A Burger Beyond Expectations:
When it comes to burgers, we often think of beef patties sandwiched between two buns. But why limit ourselves when there are so many amazing alternatives out there? Salmon, with its rich and delicate taste, is the perfect choice for a burger that breaks the mold. Not only does it offer a refreshing change, but it's also packed with nutrients like omega-3 fatty acids.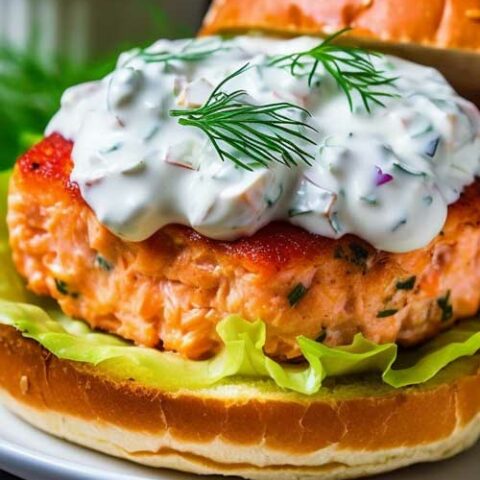 Salmon Burgers with Dill Tartar Sauce
Yield:
About 8 burgers - 1/4 lb. each
If you're ready to impress your friends and family at your next barbecue, Salmon Burgers with Dill Tartar Sauce is the recipe you need.
Ingredients
For the burgers
2 lbs. fresh salmon, coarsely chopped in the food processor and skin removed
1 medium onion
1 clove garlic
1 cup fresh dill (1 cup before chopping or a large handful)
the zest of 1 lemon
the juice of 1/2 a lemon
1 egg
1 cup bread crumbs
2 tablespoons capers
salt and pepper
vegetable or olive oil for cooking
For the sauce
1 cup mayonnaise (optional) plain yogurt instead of mayo
3 tablespoons dill relish
1 tablespoon freshly chopped dill
the juice from 1/2 a lemon
1 tablespoon coarsely ground mustard
Other ingredients
fresh hamburger rolls
lettuce
tomato
---
---
Instructions
Place all ingredients for the sauce in a bowl and mix well, set aside.
Place onion, garlic, and dill in food processor. Blend until onion and dill are very fine. Combine these ingredients in a large bowl with coarsely chopped salmon, the zest of 1 lemon, the juice of 1/2 a lemon, 1 egg, 1 cup bread crumbs and salt and pepper. Mix well. Take 1/2 cup filling at a time and form into patties.
Preheat skillet or grill. Brush or drizzle with oil. Cook burgers for 2 – 3 minutes on each side. Serve on warm buns topped with dill tarter sauce.
Nutrition Information
Yield

8
Serving Size

1 burger (4 oz. precooked)
Amount Per Serving
Calories

650
Total Fat

42g
Saturated Fat

8g
Trans Fat

0g
Unsaturated Fat

31g
Cholesterol

123mg
Sodium

660mg
Carbohydrates

32g
Fiber

3g
Sugar

12g
Protein

35g
Nutrition data was provided and calculated by Nutritionix, and should only be used as a general guideline. This information is provided as a courtesy and there is no guarantee that the information will be completely accurate.
Time to Savor:
Voila! Your Salmon Burgers with Dill Tartar Sauce are ready to be devoured. Take a moment to appreciate the vibrant colors and fresh aroma before taking your first bite. The tender and juicy salmon patty, combined with the tangy Dill Tartar Sauce and the crispness of the garnishes, creates a symphony of flavors that will transport your taste buds to new heights.