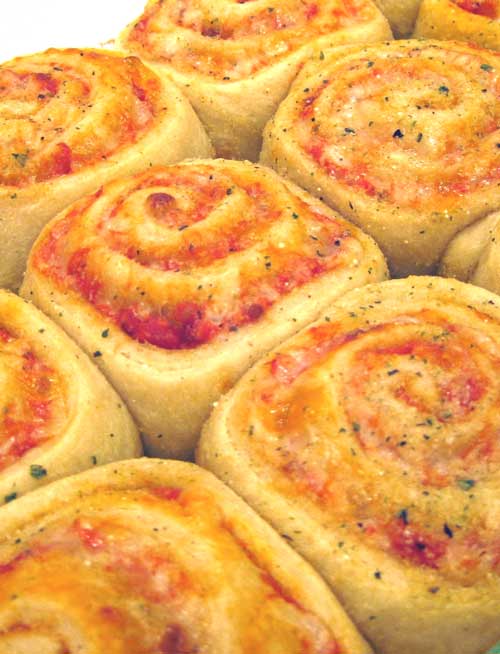 These pizza rolls are so cute, and not hard to make. Plus it's pizza…so EVERYONE will love them!
Pizza Rolls

These pizza rolls are so cute, and not hard to make. Plus it's pizza...so EVERYONE will love them!

Ingredients
Pizza dough
2 cups bread flour
1 1/2 tsp. instant yeast
1 tbsp. extra-virgin olive oil
3/4 tsp. salt
1 cup hot tap water
Pizza rolls
1 cup Pizza Sauce
1 cup (more or less) mozzarella cheese
3-4 Tbsp. melted butter
3/4 Tbsp. Italian seasoning
Instructions
Make the dough
Place flour, yeast, and salt into the bowl of a stand mixer fitted with dough hook. Pulse a second or two to combine dry ingredients. Add oil and hot tap water and mix for about 10 seconds. If it looks too wet, add a little more flour, if it's too dry, add a little more water. (NOTE: You want it wet enough to leave a little residue on the side of the bowl at this point but not so wet that it's gooey.) Knead until the dough is smooth and elastic, about 5 minutes. Dough should be a little sticky to the touch. Do not add any flour or water after the dough is done mixing.
Form the dough into a ball, put it in a deep oiled bowl, and cover with plastic wrap,a damp towel or a lid. Let rise until doubled in size (times will vary, so just keep an eye on it). Punch dough to deflate it.
Assembling
Make pizza crust according to directions and let raise once. After it has risen, turn it onto a counter sprayed with cooking spray and roll it out thin, in the shape of a rectangle. Spread sauce; you may only need 1/2-3/4 cup but you can use the rest for dipping after the rolls are cooked. Add cheese and start rolling the dough tightly in a neat line. When there's about an inch of dough left, stop rolling and pull the edge up and over, pinching it closed.
With a piece of dental floss (preferably not the mint kind), slide it under the roll and pinch off pieces about 1-inch thick. Lay the rolls in a 13x9-inch baking pan, sprayed with cooking spray. You should get about 12 rolls out of the dough. Cover lightly and let raise until about doubled.
Preheat oven to 375 degrees. Combine melted butter and Italian seasoning and brush over the tops of the rolls. Bake for about 17-20 minutes.
Serve warm either plain or with extra pizza sauce for dipping.
Recipe and Photo: Emily's Recipe Collection