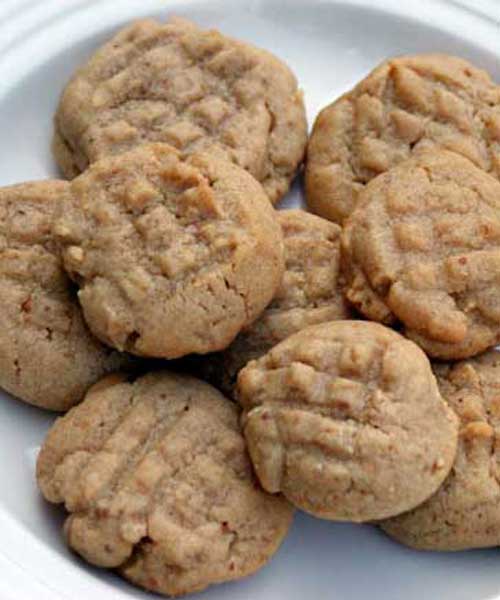 They have the perfect texture, and the surprise of sweet peanut butter chips in each bite. The recipe also calls for chocolate chips, but I skipped those.
Ingredients
1 1/4 cups all-purpose flour
3/4 teaspoon baking soda
1/2 teaspoon baking powder
1/4 teaspoon salt
1/2 cup unsalted butter, softened
1 cup smooth peanut butter at room temperature (I used Smucker's Natural)
Scant 3/4 cup sugar
1/2 cup lightly packed light brown sugar
1 large egg, at room temperature
1 tablespoon milk
1 teaspoon vanilla extract
1/2 cup peanut butter chips
Instructions
If you are baking immediately, preheat the oven to 350 degrees. If you are resting dough overnight, preheat oven when you remove dough from the fridge.
In a medium sized bowl, combine the flour, baking soda, baking powder, and salt. Set aside.
In a large bowl beat the butter and peanut butter together until fluffy. Add the sugars and continue beating until fully combined. Add the egg, milk, and vanilla extract, and beat well. Add half the flour mixture, fold in, then the rest of the flour, and beat until no white pockets remain. By hand, fold in the peanut butter chips. At this point, you can chill the dough overnight. Press plastic wrap on the surface of the dough and refrigerate. Or continue without aging the dough.
Drop small teaspoonfuls of dough onto ungreased cookie sheets, leaving a few inches of space between drops for expansion. Using a fork, lightly indent with a criss-cross pattern, but do not smash the cookie completely flat. Bake for 10 minutes. Do not overbake—cookies may appear underdone when perfectly cooked.
Leave the cookies on the cookie sheets for a minute, then remove to a wire rack to cool completely.
Photo: Maggie Hoffman / CC BY