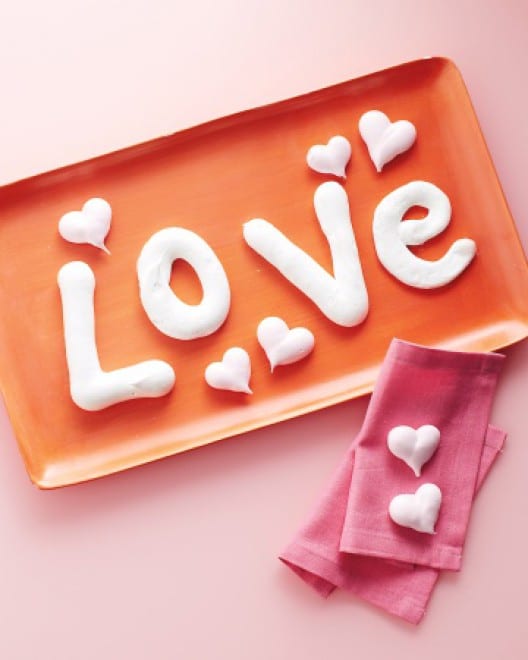 Ingredients
3 large egg whites, at room temperature
3/4 cup sugar
Large pinch of coarse salt
Large pinch of cream of tartar
Instructions
Preheat oven to 200 degrees, with racks in upper and lower third of oven. Combine egg whites and sugar in a bowl set over a pot of simmering water; stir until sugar dissolves and mixture is warm, about 3 minutes. Add salt and cream of tartar.
Beat with a mixer on medium-high speed until stiff, glossy peaks form and meringue is mostly cooled, about 7 minutes.
Transfer meringue to a piping bag fitted with a 1/2-inch plain pastry tip (such as Ateco #805). Pipe the letters L, O, V, and E, 3 times each, onto a parchment-lined baking sheet; each letter should be about 4 inches tall and spaced 1 inch apart. Pipe 16 hearts, 1 inch tall and 1 inch apart, onto another parchment-lined baking sheet.
Bake meringues until crisp on the outside but still soft inside, about 1 hour for letters and 40 minutes for hearts. Transfer to a wire rack and let cool completely. Cookies can be stored in an airtight container at room temperature up to 1 day.