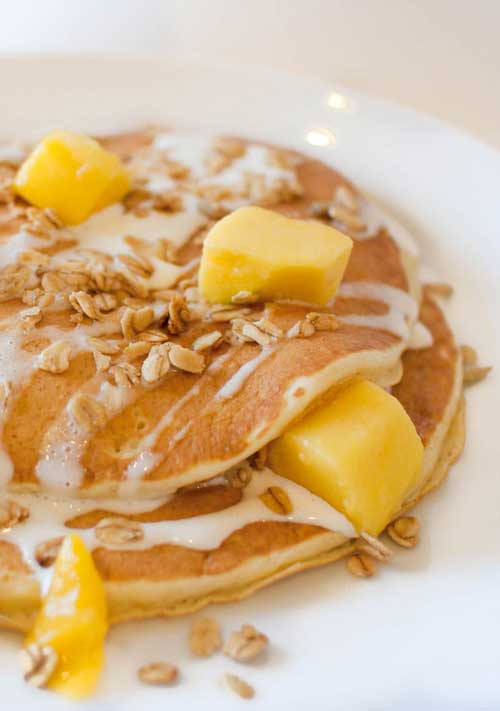 Mango Blisscakes are just what they sound like — a stack of the fluffiest buttermilk pancakes you've ever tried, topped with fresh mango, creamy vanilla mascarpone cream and a brown sugar oat crust. Pure heaven.
Ingredients
2 cups all-purpose flour
2 teaspoons baking powder
1 teaspoon baking soda
1/2 teaspoon salt
3 tablespoons sugar
2 large eggs, lightly beaten
3 cups buttermilk
2 tablespoons unsalted butter, melted and cooled, plus more for griddle
8 ounces mascarpone
3 tablespoons powdered sugar
1 mango, peeled, pitted and diced
1 cup granola
Maple syrup (optional)
Instructions
Preheat your non-stick griddle/skillet over medium-high heat.
Meanwhile, whisk together flour, baking powder, baking soda, salt, and sugar in a medium bowl. Add eggs, buttermilk, and melted butter; whisk to combine. Batter will be slightly lumpy.
Test griddle/skillet by sprinkling a few drops of water on it. If water bounces and spatters off griddle/skillet, it's ready. Using a 4-ounce ladle or a 1/2 cup measuring cup, pour pancake batter onto your preheated griddle/skillet. The pancakes are ready to flip when bubbles form in the center and the edges become slightly dry; about 2 minutes. Flip and cook for and additional minute or so.
Meanwhile, whip mascarpone and powdered sugar with an electric mixer until light and airy.
To serve, layer pancakes with sweetened mascarpone, diced mango and a sprinkling of granola. Top with additional maple syrup, if desired.
Photo: Bobbi Bowers