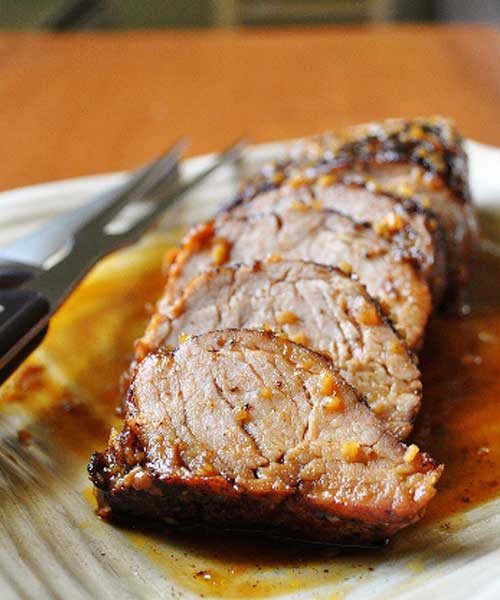 Can I just tell you that I LOVE THIS DISH! This Island Pork Tenderloin blew my mind – This is what you want to make when you have company (as long as your guests don't mind a things being a little spicy)
Island Pork Tenderloin

Can I just tell you that I LOVE THIS DISH!  This Island Pork Tenderloin blew my mind - This is what you want to make when you have company (as long as your guests don't mind a things being a little spicy)

Ingredients
For spice rub:
2 tsp salt
½ tsp pepper
1 tsp cumin
1 tsp chili powder
1 tsp cinnamon
2 pork tenderloins (2 ¼ - 2 ½ lbs total) trimmed
2 tbsp olive oil
For Glaze:
¾ cup packed dark brown sugar
2 tbsp finely chopped garlic
1 tbsp Tabasco
Instructions
Stir the spice rub ingredients together in a small bowl and rub all over the pork. Heat oil in ovenproof 12-inch heavy skillet over medium high heat. Brown pork, turning occasionally, about 4-5 minutes total. Remove from heat, but leave pork in skillet.
Stir together brown sugar, garlic and Tabasco in a small bowl. Pat the mixture on top of the pork. Place skillet in the oven at 350. Roast until thermometer inserted diagonally into the center of each tenderloin registers 140 degrees, about 20 minutes. Let pork stand in skillet, loosely covered with foil for 10 minutes.
Recipe and Photo: Little B Cooks