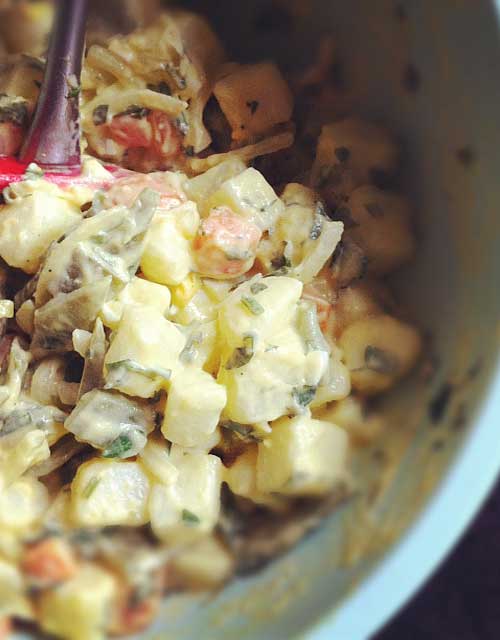 Need a side in a hurry? You can make this Impromptu Potato Salad in an hour and a half, from start to chilled.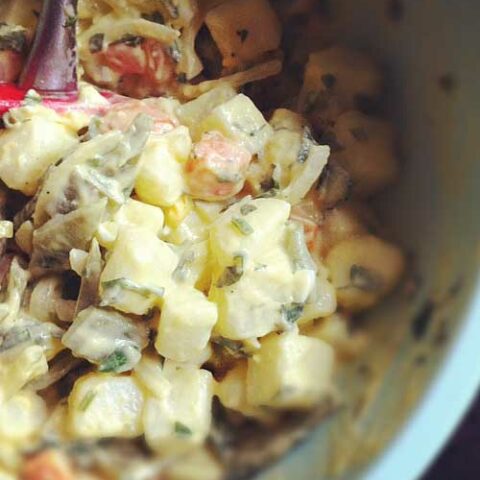 Impromptu Potato Salad
Total Time:
1 hour
30 minutes
Need a side in a hurry? You can make this Impromptu Potato Salad in an hour and a half, from start to chilled.
Ingredients
2 large eggs
1/2 medium yellow onion, thinly sliced, rinsed under water and drained well
1/4 cup unseasoned rice vinegar or cider vinegar
A spatula's plop of mayonnaise (about 1/4 cup)
Splash of canola or olive oil
Handful of chopped fresh herbs (2 to 3 tablespoons)
Sugar
Salt and pepper
2 carrots
8 to 12 ounces green beans
3 white or red boiling potatoes (about 1 pound total)
---
---
Instructions
Put the eggs into large pot of salted water. Crank the heat to high.
Meanwhile, combine the onion, vinegar, mayonnaise and herbs in a bowl. Season with about 1/2 teaspoon of salt and 1/4 teaspoon of pepper. Add a pinch of sugar if you want to soften the blow a tad. Aim for a bite because the potatoes will suck up the dressing flavor. Set near the stove.
Meanwhile, peel and cut the carrots into 1/2-inch dice. Set aside. Cut the green beans into 1/2 to 3/4-inch pieces. Set aside. Peel the potatoes and cut into 1/2-inch dice. Swish the potato in a bowl of water to loosen some of the starch, then drain well. Set aside.
When the water comes to a boil, transfer the carrot to a vertical strainer and cook them in boiling water for 5 to 7 minutes until tender firm. Lift them out, shake the strainer, then dump the carrots into the bowl of dressing. (If you don't have a vertical strainer, dump the carrot in and retrieve them with a slotted spoon.)The egg should be done by now. Retrieve them, rinse in cold water, set aside to cool (cook the beans per the next step while you wait). Peel the eggs when they're ready, roughly chop them, then add to the dressing.
Boil the green beans using the vertical strainer for 3 to 4 minutes. Strain, shake and dump into the bowl. Add the potatoes to the pot (no strainer needed). Boil for 4 to 6 minutes until moderately firm. Drain well but don't rinse. Dump the hot potatoes into the bowl. Toss well, taste and adjust the flavor as needed. Transfer to a shallow baking dish and refrigerate, uncovered, for about 1 hour, until chilled. (It's okay if it's not totally cold!) Stir occasionally to facilitate cooling. Taste and season again, then serve. Store leftovers in a covered container for up to 3 days.
Recipe and Photo: Andrea Nguyen