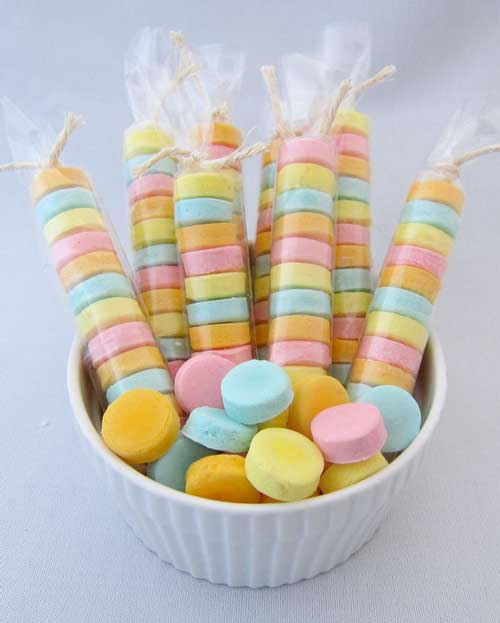 Sweet and sour all wrapped up in one tiny magnificent bite! That would be my definition of homemade sweet tarts and making them was so much easier than I ever imagined.
1/4 c. clear soda (Blue Sky, Cream Soda, Sierra Mist, 7-UP)
3/4 t. gelatin
3-4 c. powdered sugar, plus more for rolling
2 t. citric acid
!Flavored extracts
Food coloring
1/2 t. each of lemon and orange zest – optional
In a small non-reactive bowl combine gelatin and soda. After about 5 minutes, set the bowl over a pot of simmering water to dissolve the gelatin completely – until you can't see any granules. Remove from heat.
Using a hand or stand mixer – mix 1/2 c. powdered sugar and the citric acid into the gelatin mixture. Keep adding the powdered sugar 1/2 cup at a time until you have stiff fondant-like dough. It will be somewhat sticky. Turn dough out onto a work surface covered with powdered sugar. Knead until dough is less sticky and can be easily rolled with a rolling pin.
This is the basic recipe. Now you can add what ever flavorings and colors you wish.
Once the basic dough recipe is finished divide dough into as many equal pieces as flavorings you have to use. I divided mine into four equal pieces so I chose four extracts (and matching food colorings) – Lemon, Orange, Strawberry and Blueberry
Starting with one piece of dough make a well in the middle and add:
1/4 t. of flavoring/extract
food coloring – to desired color
1/2 t. zest – optional – I used this only in the orange and lemon varieties.
Knead until cohesive. Set aside while you mix the other colors and flavors.
I only highlight one version (lemon) in these instructions but the steps are the same for each color/flavor.
Starting with one color/flavor of dough roll out to 1/4 inch thickness. I used 1/4 inch square dowels as guides. It makes the drying more consistent this way.
Using a small round cookie cutter (about 1/2 inch in diameter), cut out as many circles as you can and transfer cut-outs to a baking sheet to dry. Collect scraps and re-roll and cut continuing until dough is gone.
Drying may take a few days so be patient. If you have a food dehydrator you can speed the drying process significantly! Don't try to put them in the oven, however, even on warm. They will not dry smooth and will have bumps and indents. Trust me I tried it once!!!
Roll sweet tarts in candy wrappers if desired or store in an airtight container for up to three months. Don't worry they will be gone before that! They also make great party snacks or a good addition to a goodie bag. They are mess free!
Recipe and Photo: Instructables