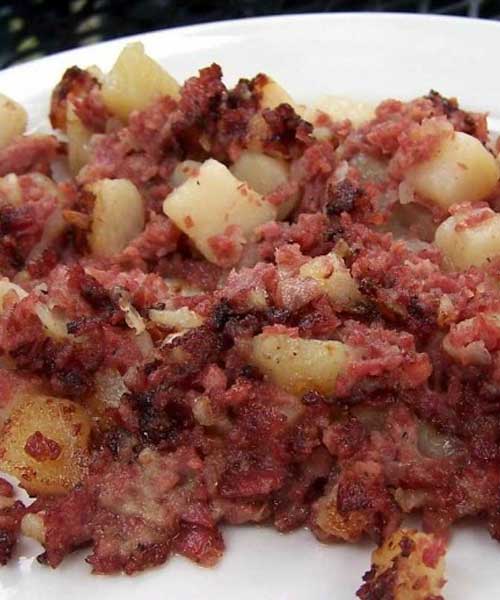 Hash is a dish consisting of diced meat, potatoes, and spices that are mixed together and then cooked either alone or with other ingredients such as onions. The name is derived from the French verb hacher (to chop).
In many locations, hash is served primarily as a breakfast food on restaurant menus and as home cuisine, often served with eggs and toast (or biscuits), and occasionally fried potatoes (hash browns, home fries, etc.). The dish may also use corned beef or roast beef.
Corned beef hash became especially popular in some countries during and after World War II as rationing limited the availability of fresh meat.
Hash has recently made a comeback as more than just a dish for leftovers or breakfasts of last resort. High-end restaurants now offer sophisticated hashes and the first cookbook dedicated exclusively to a wide variety of hashes was self-published in 2012.
Now, with the history lesson out of the way; we bring your our corned beef hash recipe.
Ingredients
3 tablespoons unsalted butter
1 cup finely chopped red bell pepper
2 cloves garlic, minced
5 cups leftover Corned Beef and Cabbage, well drained
1/2 teaspoon chopped fresh thyme
1/2 teaspoon chopped fresh oregano
1/4 teaspoon freshly ground black pepper
Instructions
Melt the butter in a 12-inch cast iron skillet set over medium heat. Add the bell pepper and cook until it begins to brown slightly, approximately 5 to 6 minutes.
Add the garlic, corned beef and cabbage, thyme, oregano and black pepper to the skillet and stir to combine.
Once combined, spread the hash evenly over the pan and firmly press down with a spatula. Place a heavy lid, heatproof plate or second pan directly atop the hash and allow to cook until browned, approximately 10 minutes.
After 10 minutes stir mixture, press down again, top with the lid and allow to cook another 5 to 6 minutes, or until browned.
Serve immediately.