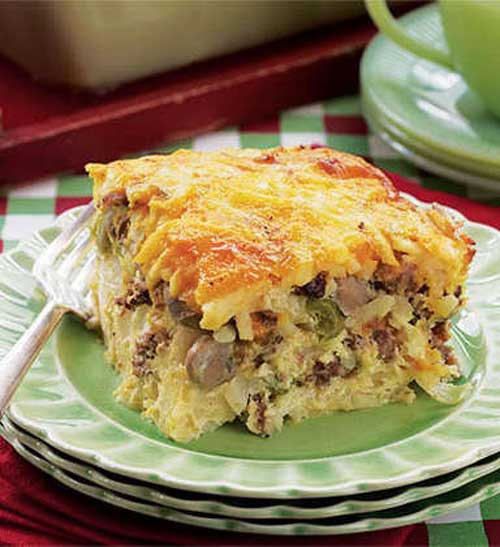 For a southwest flair, replace the mushrooms with a small can of sliced olives, add Monterey Jack cheese instead of Cheddar and serve with spicy salsa on the side.
Ingredients
16-oz. pkg. shredded frozen hashbrowns, thawed and divided
1 onion, chopped and divided
1 pound ground pork sausage, browned and drained
1 green pepper, chopped
4-oz. can sliced mushrooms, drained
1/2 to 1 cup shredded Cheddar cheese, divided
1 doz. eggs, beaten
1 1/2 cups milk
Salt and pepper to taste
Optional: garlic salt to taste
Instructions
Spread half of the hashbrowns in a lightly greased 13″x9″ baking pan. Layer ingredients as follows: half the onion, sausage, remaining onion, green pepper, mushrooms and half the cheese. In a separate bowl, whisk together eggs, milk and seasonings. Pour egg mixture over casserole; top with remaining hashbrowns and remaining cheese. Cover with aluminum foil and refrigerate overnight.
Bake, covered, at 350 degrees for 45 to 60 minutes. Uncover and bake an additional 20 minutes or until a knife inserted in center comes out clean.
Recipe and Photo courtesy of: GooseberryPatch.com