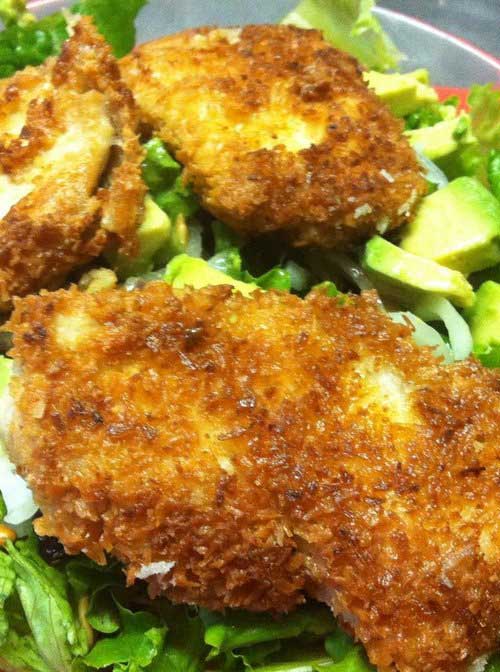 Recipe for Coconut Crispy Chicken Salad – One of my favorite things to eat has always been Crispy Chicken Salad – I mean salad is always healthy right? It was healthy and delicious!
Coconut Crispy Chicken Salad
---
1.5 lbs chicken breast (used about 1/2 for this and the rest i'll eat for lunch this week)
1/2 cup almond meal
2 eggs, beaten
1 cup unsweetened coconut flakes
4 tablespoons coconut oil
1 head of green leaf lettuce
1/2 avocado
1/2 small red onion
1/6 cup unsweetened dried cranberries
1/4 up sunflower seeds
1 lime, juiced
2 teaspoons mustard (spicy brown)
1/3 cup extra virgin olive oil
salt and pepper to taste
---
Cut chicken breasts into small 3 bite sized pieces, about 1/4 inch think
Set up 3 bowls 1 with almond meal, 1 with eggs, and 1 with coconut flakes seasoned with salt
Dredge all chicken pieces, first lightly in almond meal, the lightly in the eggs, then press a little bit firmer into the coconut flakes. Lay coated chicken in a single layer on a plate before cooking.
Heat 2 tablespoons of coconut oil in a pan on medium high (if you use 1.5 lbs of chicken like me, you'll probably need to use to pan) when the oil is hot place the chicken in the pan, and cook for 3 minutes
When chicken has browned flip over and cook for another 3 minutes
While the chicken is cooking prepare the salad, cut up lettuce and top with diced avocado, cranberries, sunflower seeds, and thinly sliced onion. Separate evenly into two bowls.
Make dressing by juicing lime in top a bowl and a mustard, whisk together and then slowly whisk in olive oil. Taste and then season with salt and pepper if desired
Remove chicken pieces from pan and salt to taste.
Top salad with chicken pieces (3-4 each) and dress with lime dressing.
---
Recipe and Photo: ThePaleoist.blogspot.com