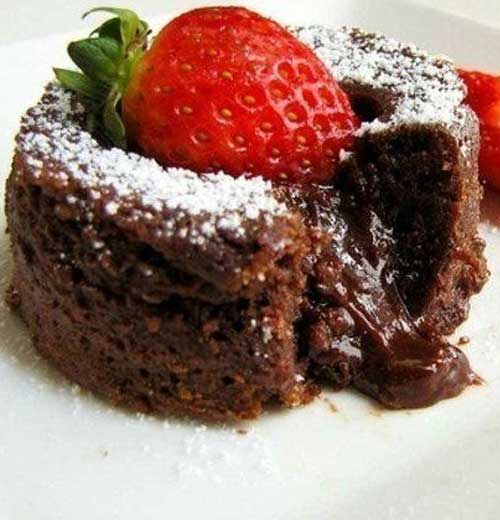 This version of Chocolate Lava Cake is especially rich and chocolaty!!
Chocolate Lava Cakes with Strawberries

This version of Chocolate Lava Cake is especially rich and chocolaty!!

Ingredients
2 sticks (1/2 pound) unsalted butter, plus more for coating
3/4 cup sugar, plus more for coating
3/4 pound semisweet chocolate, chopped
6 large eggs
1/2 cup all-purpose flour
Strawberries, for serving
Instructions
Preheat the oven to 425°. Butter ten 8-ounce ramekins and lightly coat them with sugar. Set the ramekins on a large rimmed baking sheet.
In a large bowl set over a saucepan of simmering water, melt the 2 sticks of butter and semisweet chocolate until smooth, stirring a few times. Set the melted chocolate aside and keep warm; keep the saucepan of water simmering.
In another large bowl, whisk the eggs with the 3/4 cup of sugar. Set the bowl over the simmering water and stir the eggs until warm. Remove the bowl from the heat. Using an electric mixer, beat the eggs at high speed until doubled in volume, about 5 minutes. Sift the flour over the chocolate mixture and gently fold in with a rubber spatula. Working in 2 batches, fold in the warm egg mixture.
Spoon the batter into the ramekins and bake for about 15 minutes, or until the cakes are set around the edges and wobbly in the center. Remove the ramekins from the oven and let the chocolate cakes stand for 3 minutes.
Carefully invert the ramekins onto plates to unmold the chocolate cakes. Top each cake a strawberry, spoon the sliced strawberries alongside and serve right away.
Recipe and Photo Courtesy of Food and Wine