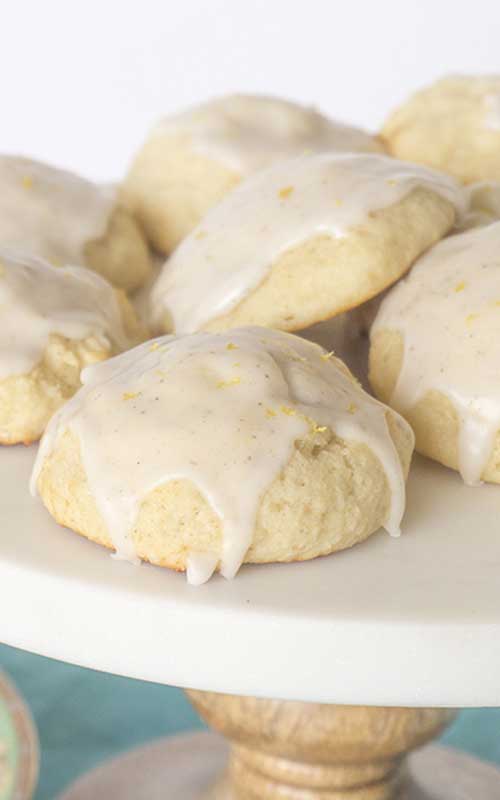 Vanilla Bean Ricotta Cookies that are perfect for Easter brunch, or any other special occasion!
Vanilla Bean Ricotta Cookies

A soft vanilla cookie that's perfect for Easter brunch, or any other special occasion!

Ingredients
Cookies:
2½ cups all-purpose flour
1½ teaspoon baking powder
1 teaspoon salt
1 stick unsalted butter, softened to room temp
1¾ cups granulated sugar
2 whole eggs, plus one egg white
1 (15-ounce) container whole milk ricotta cheese, drained preferably overnight
2 tsp vanilla paste
Glaze:
1½ cups powdered sugar, more or less to get ideal icing consistency
4 teaspoons half and half
1 tsp vanilla paste
lemon for zesting on top, optional
Instructions
Place the ricotta cheese in a strainer over a bowl and place in the fridge overnight (or a couple hours) to drain out all the excess liquid. You can skip this if you have high quality ricotta at your store.
Place oven racks in the upper portions of your oven. Preheat the oven to 375 degrees F. (You will reduce heat to 350 when you put the cookies in)
Cookies:
In a medium bowl combine the flour, baking powder, and salt. Set aside.
In the bowl of a standing mixer, add butter and beat on medium for 10 seconds.
With the mixer running on medium, slowly pour in the sugar. Beat the butter and sugar for 2 minutes, stopping once to scrap down the sides of the bowl. You should get a nice and fluffy result. Add the eggs, 1 at a time, beating until incorporated.
Add the ricotta cheese and the vanilla paste. Beat to combine.
Stir in the dry ingredients.
Line 2 baking sheets with parchment paper. Spoon the dough (about 1 heaping tablespoon for each cookie) onto the baking sheets. To get a more uniform shape and even baking, I like to roll them into balls and chill the sheets for about 45 minutes before I put them in the oven.
Turn down the oven to 350 and bake for 15 minutes, until bottom edges have color and tops are starting to get a little color. Rotating them halfway through and keeping an eye on them around minute 12.
Remove from the oven and let the cookies rest on the baking sheet for 20 minutes.
Glaze:
Combine the powdered sugar, half and half and vanilla paste in a small bowl and stir until smooth. You want the glaze to be fairly thick, but still loose enough that it naturally spreads to coat the cookie.
Spoon about ½ teaspoon onto each cookie and use the back of the spoon to gently spread.
Add a little lemon zest to the tops of each.
Let the glaze harden for about 2 hours before storing.
Recipe and Photo: Oat & Sesame via Foodista