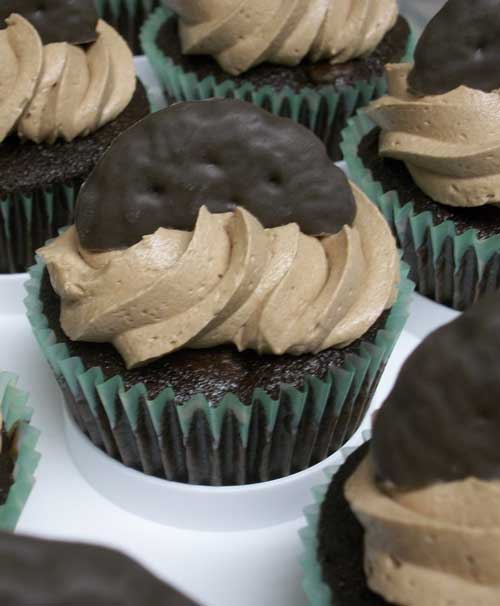 Recipe for Thin Mint Cupcakes – If you like thin mints, you will love these cupcakes – each component highlights the chocolate and mint flavors and they all come together to make thin mints even better.
---
Thin Mint Cupcakes

1 cup coffee
16 tbsp. (2 sticks) unsalted butter
¾ cup unsweetened cocoa powder
2 cups all-purpose flour
2 cups sugar
1½ tsp. baking soda
¾ tsp. salt
2 large eggs
2/3 cup sour cream
1 box Thin Mint cookies (32 cookies), chopped
Chocolate Mint Buttercream

2 sticks unsalted butter, room temperature
2 cups powdered sugar
1 tsp. vanilla extract
1 tsp. peppermint extract
3/4 cup semisweet chocolate chips, melted and cooled
2 Tbsp. heavy cream
Decoration

15 Thin Mints, halved
---
To make the cupcakes, preheat the oven to 350° F. Line cupcake pans with paper liners.
Combine the coffee and butter in a medium saucepan over medium heat. Add the cocoa powder and whisk until smooth. Remove from the heat and allow to cool slightly.
In a large mixing bowl, combine the flour, sugar, baking soda and salt.
In the bowl of an electric mixer fitted with the paddle attachment, beat together the eggs and sour cream to blend. Add the coffee-butter mixture and beat just to combine. Mix in the dry ingredients on low speed just until incorporated.
Add the chopped Thin Mint cookies and fold them into the batter.
Divide the batter evenly between the cupcake liners, filling them about 2/3 to ¾ full.
Bake until a toothpick inserted in the center comes out clean, about 17 minutes.
Allow to cool in the pan for 5-10 minutes, then transfer to a wire rack to cool completely.
To make the chocolate mint buttercream, in a standing mixer fitted with a whisk, mix together butter and half of the powdered sugar until combined.
Add the rest of the sugar and mix until completely incorporated. Then whisk for 2-3 additional minutes until the mixture is light and fluffy.
Add the vanilla and peppermint extracts and mix until combined.
Pour in the melted chocolate and cream and mix for 2-3 minutes.
Frost the cupcakes as desired and top each with half a Thin Mint.
---