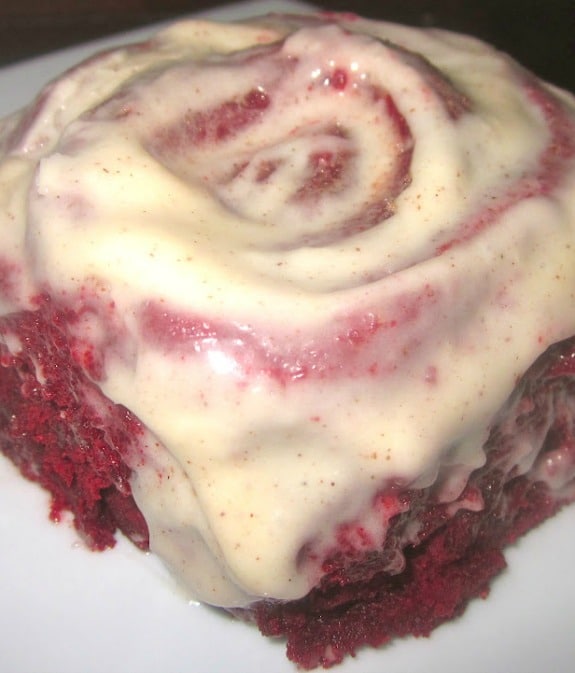 Here's an early Valentine's Day for all you lovers out there… Red Hot Velvet Cinnamon Rolls with Cinnamon-Cream Cheese Frosting!!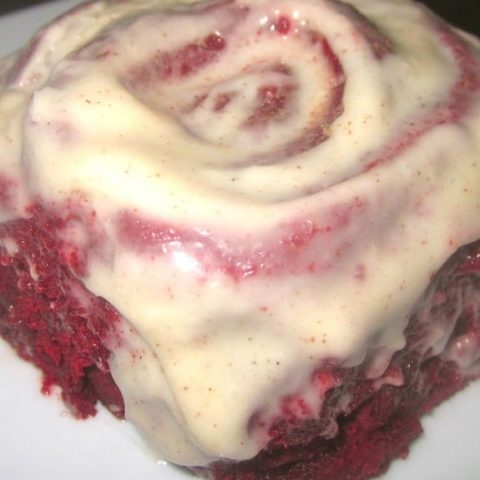 Red Hot Velvet Cinnamon Rolls with Cinnamon-Cream Cheese Frosting
Inactive Time:
45 minutes
Total Time:
1 hour
25 minutes
Here's an early Valentine's Day for all you lovers out there… Red Hot Velvet Cinnamon Rolls with Cinnamon-Cream Cheese Frosting!!
Ingredients
For the Cinnamon Rolls:
2C Buttermilk (minus 2T)
2T White Distilled Vinegar
½C Vegetable Oil
½C Sugar
2-3oz Red Food Coloring (or to the color of your liking)
1 Package of Active Dry Yeast (0.25oz Packets)
3 ¾C AP Flour + ½C AP Flour
¼C Unsweetened Cocoa Powder
½t Baking Powder, Heaping
½t Baking Soda, Scant
1t Salt, Heaping
For the Filling:
1-2C Butter, Melted or Completely Softened**
1C Sugar
Generous Sprinkling of Cinnamon
For the Frosting:
8oz Cream Cheese, Room Temperature
2C Confectioners' Sugar
Cinnamon (to your liking)
1 Stick of Unsalted Butter, Room Temperature
½t Vanilla
Festive Valentine's Day Sprinkles & Crushed Red Hot Candies, For Decoration
---
---
Instructions
Rolls:
Measure out the 2C buttermilk in a large measuring cup, and then remove 2T of the buttermilk and substitute by adding in the 2T of white vinegar. Mix the buttermilk, vinegar, vegetable oil, sugar, and red food coloring in a pot. Heat the mixture until just before the boiling point. Turn off the heat and leave to cool for 45 minutes to an hour. Meanwhile, sift together the 3 3/4C AP flour with the 1/4C unsweetened cocoa powder, and set it aside. When the milk mixture is warm (but not hot), sprinkle in the package of yeast. Let it sit for a minute or two, and then add in the sifted flour-cocoa powder. Stir the mixture and cover, and then let it rise for at least an hour.
After rising for an hour, add in 1/2C AP Flour, baking powder, baking soda, and salt. Stir the mixture together. Refrigerate the dough overnight to help it become firm and better for presentation.
The next day, sprinkle a rolling surface generously with flour. Take the dough and form a rough rectangle, and then roll the dough out to about 1/4-1/2inch thick (depending on your preference), while making sure to maintain a rough rectangular shape from before. Once rolled out, proceed to the filling step.
Filling:
Smear or spread on the amount of butter you prefer over your rectangular dough, either one to two cups. I used 1C of the very soft butter (but some people prefer melted, I find that melted butter is more messy and harder to work with). Now, sprinkle 1C of sugar over the butter, followed by a generous sprinkling of cinnamon (this is up to how much cinnamon you like, we like a lot).
Now, starting at the opposite end, begin rolling the dough in a neat line toward you. Keep the roll relatively tight as you go. Next, pinch the seam of the roll to seal it. Spray a 13x9-baking pan with Pam, and set it aside. Then, begin cutting the rolls into approximately 10-12 thick round rolls and place them into the prepared buttered pans. Let the rolls rise for an hour.
Preheat the oven to 375 degrees.
Bake the cinnamon rolls for 15-20 minutes or until light golden brown.
Frosting:
Mix together all of the ingredients and stir well until smooth. Generously drizzle over the warm rolls.
Serve immediately and enjoy while they are still warm.
Nutrition Information
Yield

10
Serving Size

1 roll
Amount Per Serving
Calories

951
Total Fat

66g
Saturated Fat

35g
Trans Fat

2g
Unsaturated Fat

26g
Cholesterol

147mg
Sodium

606mg
Carbohydrates

86g
Fiber

2g
Sugar

57g
Protein

8g
Nutrition data was provided and calculated by Nutritionix, and should only be used as a general guideline. This information is provided as a courtesy and there is no guarantee that the information will be completely accurate.
Recipe and Photo Courtesy of Piece, Love, & Cooking