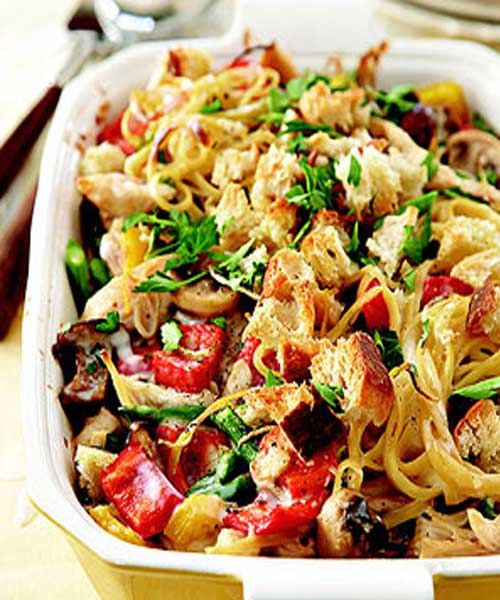 Recipe for Potluck Chicken Tetrazzini – The original dish was created in 1908 in San Francisco in honor of opera star Luisa Tetrazzini.
Potluck Chicken Tetrazzini

The original dish was created in 1908 in San Francisco in honor of opera star Luisa Tetrazzini.

Ingredients
1 purchased roasted chicken (good dish for leftover chicken or boneless chicken breasts)
8 ounces dried spaghetti or linguine, broken in half (whole grain pasta for health conscience)
12 ounces fresh asparagus, trimmed and cut into 1-inch pieces
8 ounces small whole fresh mushrooms
3 medium red and/or yellow sweet peppers, seeded and cut into 1-inch pieces
2 tablespoons butter (or olive oil)
1/4 cup all-purpose flour
1/8 teaspoon black pepper
1 14 ounce can chicken broth
3/4 cup milk
1/2 cup shredded Swiss cheese (2 oz.)
1 tablespoon finely shredded lemon peel
2 slices sourdough bread, cut into cubes (about 1-1/2 cups) (optional)
1 tablespoon olive oil
2 tablespoons snipped fresh parsley
Instructions
Preheat oven to 350 degrees F. Remove meat from chicken; discard bones. Cut chicken pieces in chunks to equal 3 cups. Save remaining chicken for another use.
In Dutch oven cook spaghetti according to package directions. Add asparagus the last 1 minute of cooking. Drain. Return to pan.
Meanwhile, in large skillet cook mushrooms and sweet peppers in hot butter (or olive oil) over medium heat for 8 to 10 minutes or until mushrooms are tender, stirring occasionally. Stir in flour and black pepper until well combined. Add broth and milk all at once. Cook and stir until thickened and bubbly.
Add mushroom mixture, chicken pieces, Swiss cheese, and half the lemon peel to pasta mixture in Dutch oven. Toss gently to coat. Spoon pasta mixture into a 13x9x2-inch baking dish or 3-quart rectangular casserole.
In a medium bowl toss together bread cubes, olive oil, and remaining lemon peel. Spread bread cube mixture on pasta mixture. Bake, uncovered, for 15 minutes or until heated through. Let stand for 5 minutes before serving. Sprinkle with parsley before serving. Makes 10 (1-cup) servings.
Recipe and Photo Courtesy of Recipe.com