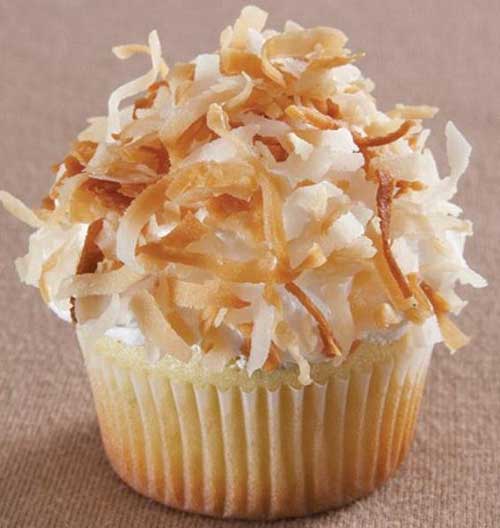 Recipe for Lime Cupcakes with Coconut Fluff Icing – The lime cupcakes are a delicious contrast between tart lime and mellow coconut icing.
Ingredients
3/4 cup (1 1/2 sticks) unsalted butter, softened
1 cup granulated sugar
2 eggs
1 cup sour cream
2 tablespoons milk
1 tablespoon lime juice
1/2 teaspoon pure vanilla extract Easy-Add pure vanilla extract Add to shopping list pure vanilla extract
2 teaspoons lime zest
2 cups all-purpose flour
1 teaspoon baking powder
1 teaspoon baking soda
1/8 teaspoon salt
Coconut Fluff Icing
1 cup granulated sugar
1/4 cup water
1/8 cup light corn syrup
1 tablespoon + 1 teaspoon Meringue Powder
1/4 cup cold water
1/2 teaspoon coconut extract
1/2 cup sweetened flaked coconut , lightly toasted (optional)
Instructions
Preheat oven to 350ºF. Prepare muffin pan with baking cups.
In medium bowl, stir together flour, baking powder, baking soda and salt. In mixing bowl, beat butter with sugar until light and fluffy. Beat in eggs, one at a time. Add sour cream, milk, lime juice, vanilla and zest; mix until combined. Add flour mixture to butter mixture, mixing until just combined. Fill baking cups 2/3 full.
Bake 9-12 minutes or until toothpick inserted in middle comes out clean. Cool 5 minutes on cooling grid. Remove from pan; cool completely before icing.
Coconut Fluff Icing
In medium saucepan, bring syrup ingredients to a boil; lower heat and stir until sugar dissolves. Cool slightly.
In large bowl, beat meringue powder and 1/2 cup water with electric mixer until stiff peaks form, about 4 minutes. With mixer running, slowly add cooled syrup to meringue mixture; continue beating on high 4 minutes. Stir in coconut extract.