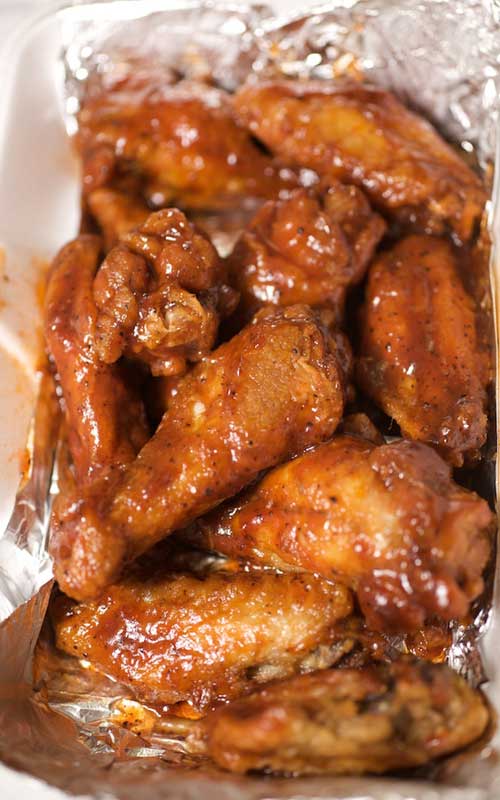 Wings are easy to make at home, and baking them in the oven cuts down on the fat and grease. Impress your friends with our Lightened-up Sweet and Spicy Chicken Wings
Lightened-up Sweet and Spicy Chicken Wings
Category: Appetizer, Party Food
Wings are easy to make at home, and baking them in the oven cuts down on the fat and grease. Impress your friends with our Lightened-up Sweet and Spicy Chicken Wings
---
1 teaspoon ground coriander
1 teaspoon smoked paprika
1 teaspoon Chinese five-spice powder
½ teaspoon cayenne pepper
Dash of salt
Dash of red pepper flakes
1 tablespoon sesame oil
3 cloves garlic, minced
1 teaspoon ginger, minced
1/3 cup green onions, sliced
3 tablespoons reduced-sodium soy sauce
3 tablespoons honey
20 chicken wings
---
Preheat oven to 350 degrees.
The most demanding part of this recipe is preparing the raw meat. Remove the tip from each wing, and then cut along the joint to separate the wing into two parts.
Mix coriander, paprika, Chinese five-spice powder, cayenne, salt and red pepper flakes in small dish and set aside.
Heat a swirl of sesame oil in a wok over medium heat. Add garlic, ginger and green onions, stirring constantly. Add soy sauce, honey and spice mixture. Cook sauce one to two minutes and add wings. Coat wings with sauce and remove from heat.
Spread wings into a single layer on a baking sheet lined with parchment paper. Bake wings for 20 minutes, flip and bake another 20 minutes. Broil wings five minutes longer and remove from oven.
---