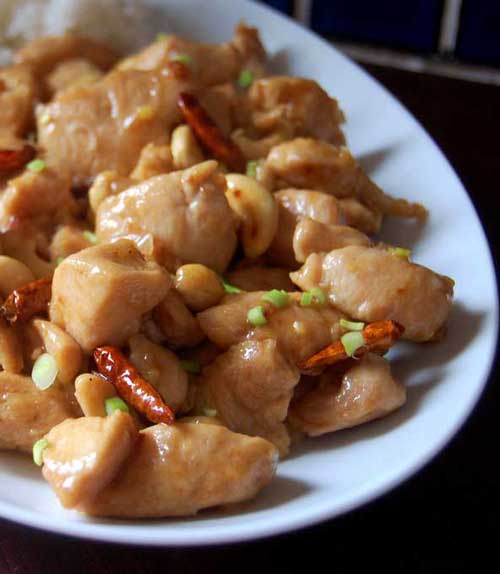 Recipe for Kung Pao Chicken – The best-ever Chinese Kung Pao Chicken, spicy, savory and so good with rice. Easy recipe and BETTER than takeout.
Ingredients
3 1/2 teaspoons Cornstarch
5 teaspoons Soy Sauce
5 teaspoons Sherry
1/4 teaspoon Salt
3 Chicken Breast halves, cut into small cubes
1Tablespoon Red Wine Vinegar
2 Tablespoons Chicken Broth
1 1/2 teaspoons Fructose (or sugar)
3 Tablespoons Vegetable Oil
1/3 Cup salted Cashews
8 small dried hot Chili Peppers
1 1/2 teaspoons fresh Ginger, minced
1 small Onion, diced
1 small Green Onions (green part only), sliced (for garnish)
dried hot chili peppers (for garnish) – I found them too spicy to eat
Instructions
For the marinade:
Combine 2 teaspoons of cornstarch, 2 teaspoons of soy sauce, 2 teaspoons of sherry, and the salt in large bowl. Mix the marinade well so that there are no clumps and then add the chicken cubes. Stir around really well to coat all the chicken. Set aside and let it stand for about 30 minutes (while you prepare everything else).
For the sauce:
Combine 1 1/2 teaspoons of cornstarch, 3 teaspoons of soy sauce, 3 teaspoons of sherry, the vinegar, the chicken broth, and the fructose in small bowl. Mix well so there are no clumps and set aside.
Cooking:
Heat 1 tablespoon of oil in a large cast iron pan over medium heat. Add the cashews and stir constantly until lightly toasted. Remove the cashews to a dish and set aside.
Heat 2 tablespoons of oil in the same pan over medium heat. Add the chili peppers and sauté until they become very fragrant, about 1 minute. Remove chili peppers, and set aside. Increase the heat to medium-high.
Add the marinated chicken with marinade to the hot pan and stir-fry 2 minutes. Add the ginger and stir-fry until the chicken is no longer pink in the center, about 1 minute. Add the cashews and onions and stir-fry 1 more minute.
Stir in the sauce and cook and stir until the sauce boils and thickens (less than 1 minute). Garnish with the green onions and chili peppers that you lightly toasted.
Recipe and Photo credit: For the Love of Food / CC BY-NC