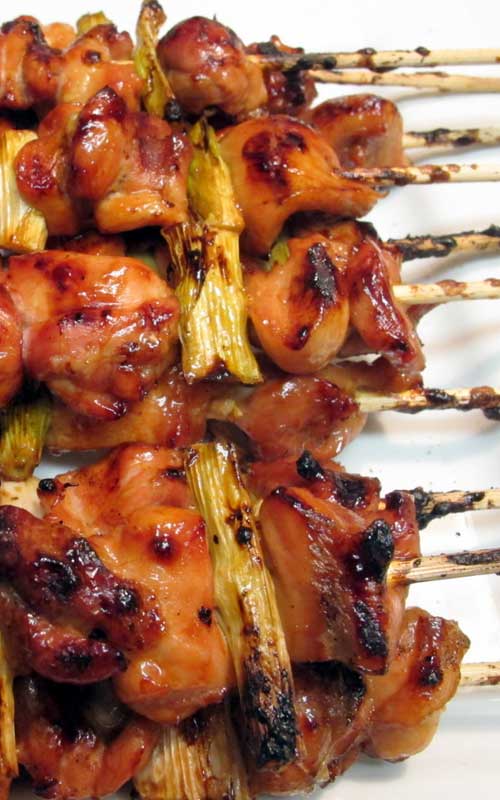 This Japanese Grilled Chicken is the best thing you can cook on a skewer! If you're planning on grilling, you NEED this recipe. (And if you don't have a grill, just pull out your trusty grill pan!)
Japanese Grilled Chicken

This Japanese Grilled Chicken is the best thing you can cook on a skewer! If you're planning on grilling, you NEED this recipe. (And if you don't have a grill, just pull out your trusty grill pan!)

Ingredients
1/2 cup soy sauce
1/4 cup sugar
1/4 cup Sake
1/4 cup Mirin
1 lb chicken thighs
2 long white onions (or 5-6 green onions)
salt
vegetable oil
Instructions
Soak bamboo skewers (6" long) in water for 30 minutes.
Mix soy sauce, sugar, Sake, and Mirin in a small pot, and boil for 8-10 minutes until the sauce gets a little thick. Set aside.
Cut chicken thighs into 1" cubes, and cut onions (white part) into 1" long pieces. Skewer chicken and onions alternately.
In a heated frying pan, spread oil very thinly, and cook skewered meat at medium high heat for 5 minutes. Turn and cook another 5 minutes until browned and cooked through.
Immediately dip chicken in the sauce, and serve.
Photo: Julia Frost