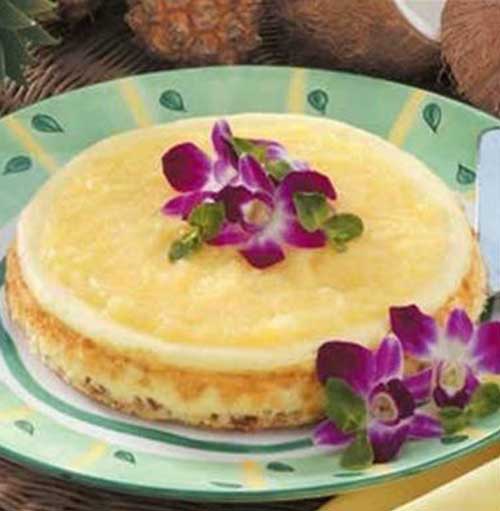 ---
1-3/4 cups flaked coconut
2 tablespoons butter, melted
FILLING:

3 packages (8 ounces each) cream cheese, softened
1 cup sugar
2 tablespoons all-purpose flour
3 eggs, lightly beaten
1 cup (8 ounces) sour cream
1 teaspoon vanilla extract
PINEAPPLE SAUCE:

1 tablespoon sugar
1 tablespoon cornstarch
2 cans (8 ounces each) crushed pineapple, undrained
1 drop yellow food coloring
Fresh mint and edible orchids for garnish, optional
---
In a small bowl, combine the coconut and butter. Press onto the bottom of a greased 9-in. springform pan. Bake at 350° for 10 minutes. Cool on a wire rack.
In a large bowl, combine the cream cheese, sugar and flour until smooth. Add eggs; beat on low speed just until combined. Stir in sour cream and vanilla until blended. Pour filling onto crust.
Place pan on a baking sheet. Bake at 350° for 45-50 minutes or until center is almost set (top of cheesecake may crack). Cool on a wire rack for 10 minutes. Carefully run a knife around edge of pan to loosen; cool 1 hour longer. Refrigerate overnight.
For sauce, combine the sugar and cornstarch in a large saucepan. Stir in the pineapple. Bring to a boil; cook and stir for 2 minutes or until thickened. Add food coloring if desired. Cover and refrigerate overnight.
Spread pineapple sauce over cheesecake. Garnish with mint and orchids if desired.
---