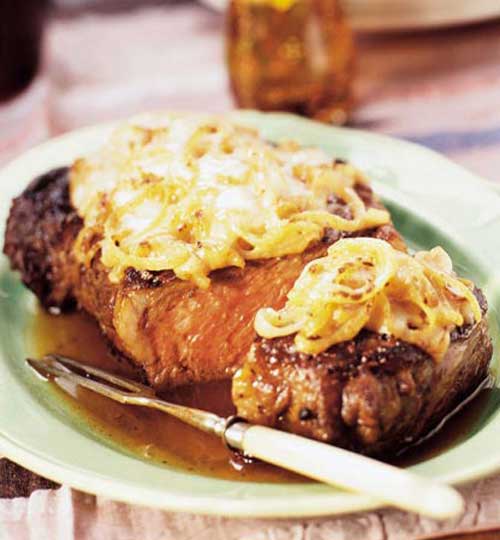 French Onion not just for soup anymore.. Beefy Cheesy Juicy Goodness.. Wanna get your honey do list done…fix this for him!!
Ingredients
1 fat-trimmed beef rib eye steak (cut 2 in. thick, 1 1/4 to 1 1/2 lb.)
1/2 teaspoon each kosher or coarse salt, cracked pepper, dried onion flakes, and dried garlic flakes (or fresh if you have time)
2 tablespoon peanut or canola oil
1 tablespoon butter
French onions
1 onion (1/2 lb.)
2 tablespoons butter or margarine
1 teaspoon sugar
1 1/2 teaspoons all-purpose flour
1/4 cup milk
1/2 cup fat-skimmed beef broth
1/2 cup shredded gruyère cheese
2 tablespoons grated parmesan cheese
Salt and pepper
Instructions
French Onions Preparation
Peel and thinly slice onion. In a 10- to 12-inch frying pan, combine onion, butter, sugar. Stir often over medium-high heat until onion is limp and lightly browned, 12 to 15 minutes. Add flour and mix well.
Remove pan from heat; stir in milk and beef broth. Stir over high heat until boiling; continue stirring until liquid is almost evaporated and mixture doesn't flow when scraped from pan bottom, 4 to 5 minutes.
Remove from heat. Add gruyère cheese and parmesan cheese; stir until melted. Season to taste with salt and pepper. Use hot. If making up to 1 day ahead, let cool, then cover and chill; reheat in a microwave-safe bowl in a microwave oven at full power (100%) for about 1 minute.
Instructions for Rib Eye Steak
Rinse beef steak and pat dry. Pat salt, pepper, onion flakes, and garlic flakes evenly onto meat.
Pour oil and butter into an 8- to 10-inch ovenproof nonstick frying pan over high heat; tilt to coat pan bottom. When hot, add steak and brown on both sides, about 4 minutes total. Supporting meat with tongs, tip steak onto its edge and rotate to brown lightly, about 2 minutes total. As fat in pan accumulates, wipe out with paper towels.
Put pan with steak in a 400° regular or convection oven and bake until meat is done to your taste (cut to test), 8 to 12 minutes for rare or about 25 minutes for well done.
Turn oven heat to broil. Remove pan and wipe out fat with a paper towel. Mound French onions onto meat and sprinkle with cheese. Broil in pan about 6 inches from heat until cheese is bubbling and beginning to brown, 3 to 4 minutes. Remove pan from oven and pour broth around meat, stirring to release browned bits.
Leave meat in pan or use a wide spatula to transfer steak and onions to a warm rimmed platter (pour juices around meat). To serve, cut meat and onions into 4 equal portions; set each on a rimmed plate and spoon juices around meat.
Recipe adapted from and Photo courtesy of: Myrecipes.com