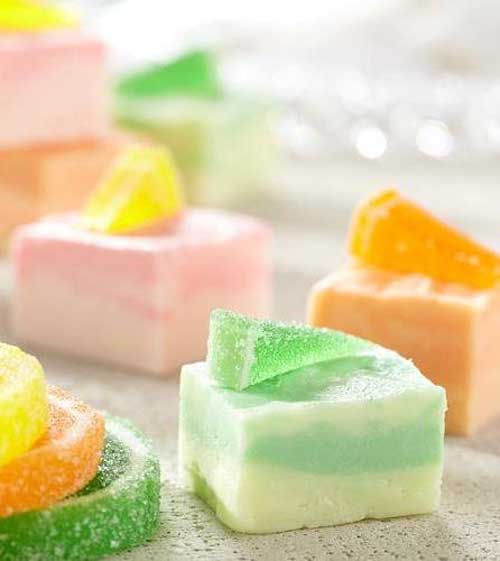 Recipe for Foolproof Pink Lemonade Fudge – This gorgeous fudge is EASY to make and delicious too!
Ingredients
2 1/2 cups white baking chips
1 (16 oz.) container Pillsbury Creamy Supreme Pink Lemonade Flavored Frosting
1/2 teaspoon vanilla extract
1/8 teaspoon salt
3 drops red food color
8 candy lemon slices (optional)
Instructions
LINE 8-inch square pan with foil, extending foil over edges of pan.
COMBINE white baking chips and frosting in medium microwave-safe bowl. Microwave on HIGH 2 minutes. Stir until chips are completely melted and smooth. Stir in vanilla and salt until blended. Spread most of frosting mixture in prepared pan, leaving about 1/2 cup remaining in bowl. Add food color to remaining frosting mixture. Stir until completely blended. Spoon over frosting mixture in pan. Swirl with tip of knife to blend colors. Cut each candy lemon slice into 8 small wedges. Arrange 64 wedges on top of fudge, in 8 rows of 8 each, to garnish.
CHILL 2 hours or until firm. Remove from pan by lifting edges of foil. Remove foil. Cut into squares.
Recipe and Photo courtesy of: Pillsburybaking.com