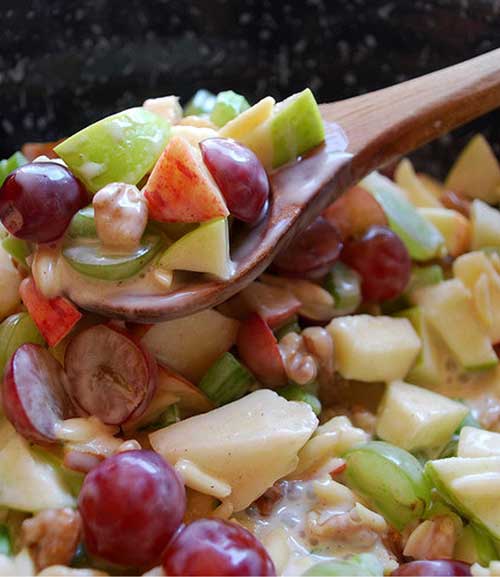 Recipe for Crunchy Apple and Grape Salad – Apples & grapes teamed up with crunchy almonds and walnuts, mixed with a cinnamon-y yogurt sauce. This is one great salad!
Ingredients
FOR THE DRESSING:
1 cup Low Fat Vanilla Yogurt
⅓ cups Granulated Sugar
⅓ cups Brown Sugar
½ cups Mayonnaise
Juice From 1/2 A Lemon
½ teaspoons Ground Cinnamon
FRUITS:
4 Apples (your Choice), Cored And Diced
1 Pear, Cored And Diced
1 Stalk Of Celery, Diced
½ cups Silvered Almonds
½ cups Walnuts, Chopped
2 cups Seedless Grapes, Halved
Instructions
Mix all the dressing ingredients together in a medium-sized bowl. Stick this in the fridge while you make the salad.
Once you have all the fruit and nuts chopped up, pour the dressing over and stir gently to coat. Refrigerate any leftovers.
Recipe adapted from: TheCuttingEdgeOrdinary