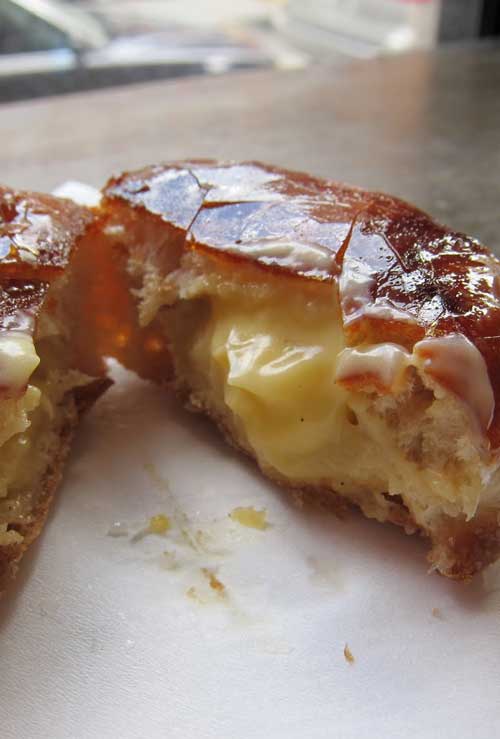 This recipe for Creme Brulee Doughnuts puts a twist on a French classic, by turning a Crème Brulee into a decadent pastry treat!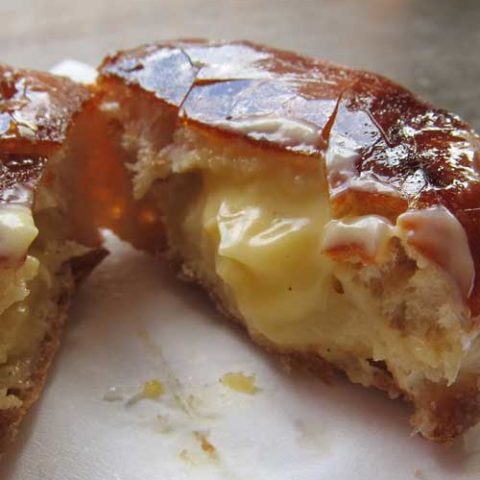 Creme Brulee Doughnuts
This recipe for Creme Brulee Doughnuts puts a twist on a French classic, by turning a Crème Brulee into a decadent pastry treat!
Ingredients
For the doughnuts:
1 sachet dried active yeast
30ml warm water (ml is on your measuring cup)
175ml lukewarm milk
1/3 cup or 50g caster sugar
½ tsp salt
1 egg
3 1/2 tbsp or 45g unsalted butter
2 1/2 cups or 350g plain flour, plus extra for dusting
vegetable oil for frying
For the custard filling:
140ml milk
½ tsp vanilla extract
1 egg yolk
2 1/2 tbsp 30g caster sugar
3 3/4 teaspoon or 10g flour
3 3/4 teaspoon or 10g cornflour
140ml double cream, whipped
For the topping:
2 cups or 250g icing sugar
---
---
Instructions
For the doughnuts, in a small bowl sprinkle the yeast over the warm water and let stand for five minutes or until foamy.
In a large bowl, gently mix the yeast mixture, milk, 50 grams caster sugar, salt, eggs, butter and flour until the ingredients come together. Remove from the bowl and knead the dough for about five minutes, or until smooth and elastic.
Place the dough into a greased bowl and cover with a damp tea towel. Leave in a warm place for 15 minutes to rise until doubled. Dough is ready if you touch it and an indentation remains.
Turn the dough out onto a floured surface. Gently roll out to one centimetre thickness. Cut seven centimetres rounds with a floured cutter and place the doughnuts on a tray to sit out and rise until doubled.
Heat oil in a deep fryer or heavy pan, using a kitchen thermometer until the oil reaches a temperature of 175 C/gas mark 3. Carefully slide doughnuts into the oil using a spatula. Fry doughnuts about three minutes on each side until golden brown. Remove from oil and drain on a wire rack.
To make the filling, pour the milk into a medium saucepan and add the vanilla extract. Bring the milk almost to the boil (so it starts to bubble lightly), take off the heat and allow to infuse for at least half an hour.
Beat the egg yolks and sugar until very pale, mix in the flour and cornflour. Stir in the infused milk and pour back in the pan.
Bring gently to the boil, stirring continuously and continue cooking until the mixture has thickened and the flour is fully cooked out. Pass through a sieve and leave to cool.
Once cooled, beat in the whipped double cream until the custard is smooth.
Spoon the filling into a piping bag fitted with a wide nozzle. Use the nozzle to make a hole in the side of each doughnut and pipe a generous amount of filling into the centre.
For the topping, place a heaped tablespoon of sugar over the top of each doughnut. Use the blowtorch to gently heat and melt the sugar until caramelized (about three minutes).
Photo: BananaWonder.com