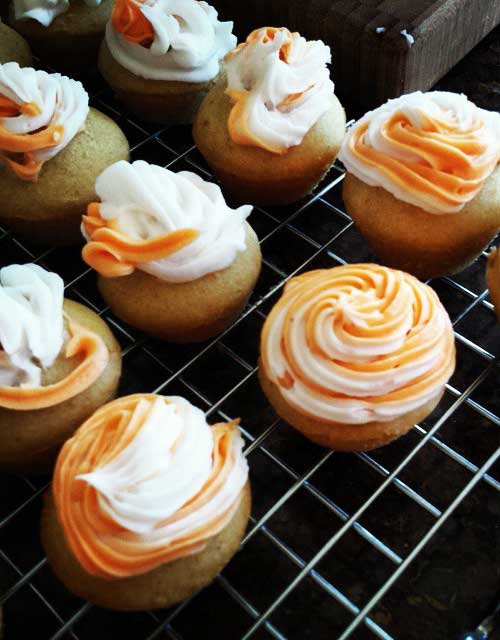 Recipe for Creamsicle Swirl Cupcakes GF-CF – Enjoy these fruity, sweet, tangy cupcakes. Their flavor is perfect for any season and you don't need a special occasion to dig in!
Ingredients
2 tbsp canola oil
1 tbsp honey (or agave nectar)
juice of 2 oranges
1 tbsp Ener-G Egg Replacer whisked with ¼ cup warm water
1 tbsp pure vanilla
½ cup sorghum flour
¼ cup coconut flour
¼ cup potato starch (not potato flour!)
½ cup arrowroot starch
½ cup sugar
3 packets stevia
¼ tsp sea salt
pinch nutmeg
1 tsp baking powder
½ tsp baking soda
1 tsp guar gum
zest of 1 orange
Frosting
¼ cup shortening
1 tbsp Southern Comfort
zest of ½ orange
3 drops natural yellow food colour (optional)
2 drops natural red food colour (optional)
2 cups powdered sugar
2-3 tbsp orange juice (as needed)
Orange sprinkles or sugar
Instructions
Preheat oven to 350 F. Line a twelve cupcake/muffin pan with paper liners.
With electric beaters, beat oil, honey, orange juice, egg replacer and vanilla until well blended.
Add remaining ingredients and beat on medium speed for two minutes.
Bake for 20 to 25 minutes (I found 20 to be perfect), until slightly tender but not squishy.
Let cool in the pan for 10 minutes, then remove cupcakes and cool on a wire rack.
Frosting:
Beat shortening, Southern Comfort, orange zest, and food colour (if using) on medium high until smooth.
Sift in the sugar slowly until incorporated. Add orange juice as needed to make the frosting smooth and creamy.
Pipe frosting on cupcakes and sprinkle with decorations.
Photo: Sarah R under a Creative Commons Licsense