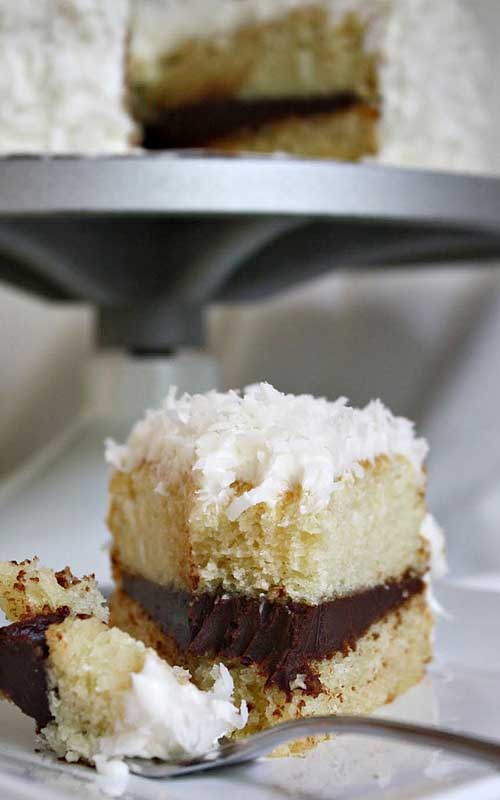 If you like chocolate and coconut together, you're going love this Coconut Layer Cake with Chocolate Ganache Filling topped with Swiss meringue buttercream and coconut flakes!
Coconut Layer Cake with Chocolate Ganache Filling

If you like chocolate and coconut together, you're going love this Coconut Layer Cake with Chocolate Ganache Filling topped with Swiss meringue buttercream and coconut flakes!

Ingredients
Ingredients for the cake layers:
1 stick and 3 tablespoons of unsalted butter, softened
1 and 1/2 cups granulated sugar
4 large egg whites
2 teaspoons vanilla extract
2 cups unbleached all-purpose flour
2 and 1/2 teaspoons baking powder
1/2 scant teaspoon salt (I used fine sea salt.)
2/3 cup milk, at room temperature (I used 2 percent.)
1/3 cup coconut milk, at room temperature
Chocolate Ganache
6 ounces good quality dark chocolate, chopped into small pieces
6 ounces heavy cream
Swiss meringue buttercream
10 large, fresh egg whites (300 g)
2-1/2 cups (500 g) sugar
3 cups (680 g) unsalted butter, cut into cubes and cool, but not cold
1 tablespoon + 1 teaspoon (20 ml) pure vanilla extract
pinch of salt
Instructions
To make the cake layers:
Preheat your oven to 350 degrees. Grease, or use baking spray on, two 9" round cake pans (I used the latter, generously). Line the bottom of the pans with rounds of parchment. Grease the parchment and flour the bottom and sides of the pan, or spray the parchment with baking spray.
In a medium size bowl, sift the flour, baking powder, and salt together. Set aside.
Stir together the milk and coconut milk in a small bowl. Set aside.
In the large bowl of your mixer, using the paddle attachment on medium-high speed, cream the butter and sugar for a few minutes, until very light in color and fluffy. Pour in the egg whites gradually, mixing until they're completely combined, and stop to scrape as needed. Mix in the vanilla.
On the lowest speed, add in the dry ingredients alternately with the milk and coconut milk, starting and ending with the dry (three portions of dry, and two portions of liquid). Beat only until the batter looks completely mixed.
Divide the batter equally into the two prepared pans, and bake in a preheated oven for about 20 to 25 minutes, or until the top of the cakes no longer look wet and a toothpick inserted in the center comes out clean. Let the cakes cool in their pans on cooling racks for about five minutes then run a thin knife or metal spatula around the edges of the cakes, and invert the cakes out of their pans and onto racks to finish cooling. Peel off the parchment, slowly and carefully, while the cakes are still warm.
Chocolate Ganache
Put the chopped chocolate into a bowl. In a small saucepan, gently heat the cream until it's hot but not boiling. Pour the cream into the bowl, over the chocolate. Let it sit undisturbed for a few minutes, then gently stir the cream completely into the chocolate. The ganache should look smooth and silky. Let it cool to room temperature, when it will be ready to use as a filling between the cooled cake layers. Don't cover it until it's at room temperature or cooler.
Swiss meringue buttercream
Wipe the bowl of an electric mixer with paper towel and lemon juice, to remove any trace of grease. Add egg whites and sugar, and simmer over a pot of water (not boiling), whisking constantly but gently, until temperature reaches 140°F, or if you don't have a candy thermometer, until the sugar has completely dissolved and the egg whites are hot.
With whisk attachment of mixer, begin to whip until the meringue is thick, glossy, and the bottom of the bowl feels neutral to the touch (this can take up to 10 minutes or so). *Don't begin adding butter until the bottom of the bowl feels neutral, and not warm.
Switch over to paddle attachment and, with mixer on low speed, add butter cubes, one at a time, until incorporated, and mix until it has reached a silky smooth texture (if curdles, keep mixing and it will come back to smooth). *If mixture is too runny, refrigerate for about 15 minutes and continue mixing with paddle attachment until it comes together. Add vanilla and salt, continuing to beat on low speed until well combined.
Cake assembly
Place one cake layer upside down onto a cardboard/cake-board or onto the plate it will be served from. Spread a generous layer of room-temperature ganache on top. Add the second cake layer, placing its flattest surface facing up. Spread about a cup or so of buttercream on the top, and frost a generous layer on the sides. Because the cake will be covered with sweetened coconut, it's not really necessary to try and make the surface or sides of the cake completely smooth. To add the coconut, hold your cake, on its board/plate over a baking sheet. Gently press handfuls of coconut into the sides as you turn the cake until it's completely covered, and then sprinkle more on the top. Scoop up any coconut that falls onto the baking sheet and scatter it on as well.
Notes
The buttercream portion makes about double what you will need. Feel free to half that portion, or you can freeze any extra and use it later.

Recipe and Photo: Jane's Sweets