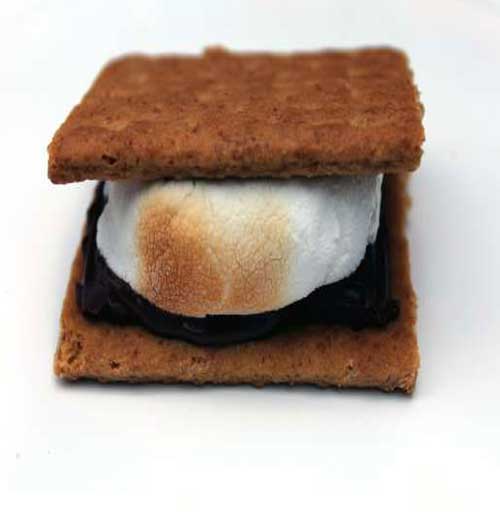 The first record of s'mores was a recipe in a 1927 Girl Scouts publication. Yes, the name does seem to be derived from everyone wanting "some more."
Chocolate Graham Cracker Nutella Smores
The first record of s'mores was a recipe in a 1927 Girl Scouts publication. Yes, the name does seem to be derived from everyone wanting "some more."
---
1 1/2 cups all purpose flour
1 cups
1/2 teaspoons salt
1/2 teaspoons baking soda
1/4 cups cocoa
1/2 cup butter (I used Smart Balance 50/50) AND 1/4 cup NUTELLA)-instead of 3/4 cup butter
1/3 cups granulated sugar (I used evaporated cane juice sugar)
1/3 cups brown sugar
3 tablespoons honey
1 teaspoon vanilla extract (I omitted, so not to take away from the Nutella taste I wanted)
1 large egg (I used Egg Beaters w/touch of yolk)
---
Mix the dry ingredients together in a medium bowl.
With the paddle attachment of your electric mixer, beat the cold butter until it is soft. Add the sugars and continue beating. Then add the honey, extract and egg and beat until combined.
Add the dry ingredients to the mixer bowl and beat until a fairly firm dough is made. Wrap the dough in plastic and place it in the refrigerator to chill. (Only chilled the dough for about 30 minutes.)
When the dough is firm enough to roll, lightly dust a countertop and a rolling pin and roll the dough to a scant 1/4-inch thick. Preheat the oven to 350 degrees.
(Cookie cutters work great and are cute and fun for these!) Use a ruler to mark 3-inch squares. Cut into squares with a sharp knife using the ruler as a straightedge. Use a thin metal spatula to scrape the crackers from the counter. Place them on a well-greased baking sheet with a margin of space to allow for spreading. Use a fork to pierce the crackers as shown. (Definitely use a thin spatula to scrape the dough from the counter to the baking sheet.)
For the topping, brush the tops of the crackers with melted butter. Sprinkle the sugar over the buttered tops.
Bake the crackers for ten minutes or until the edges just start to brown. Remove them to a wire rack to cool.
---