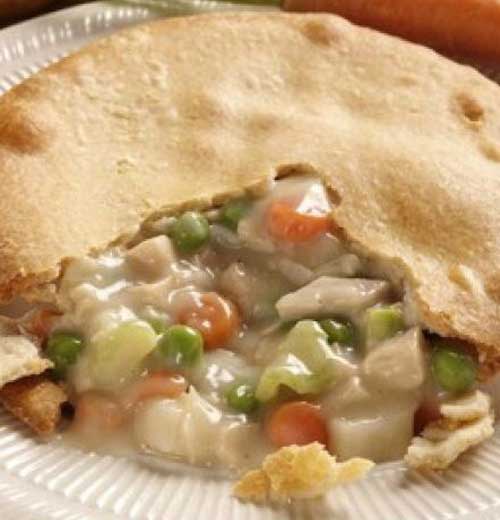 Ingredients
1 package pie crusts
1/3 cup margarine (or butter)
1/3 cup chopped onion
1/3 cup all-purpose flour
1/2 teaspoon salt
1/4 teaspoon pepper
1 1/2 cups chicken broth
2/3 cup milk
3 cups chicken, cooked
1 cup frozen corn, thawed
1 cup frozen peas, thawed
Instructions
Heat oven to 425°F.
Prepare pie crusts as directed on package for two-crust pie using 9-inch pie pan.
In a medium saucepan, melt margarine over medium heat.
Add onion; cook 2 minutes or until tender.
Stir in flour, salt, and pepper until well-blended.
Gradually stir in broth and milk; cook, stirring constantly, until bubbly and thickened.
Add chicken, corn, and peas; remove from heat.
Spoon chicken mixture into crust-lined pan.
Top with second crust and flute; cut slits in several places.
Bake for 30 to 40 minutes or until crust is golden-brown.
Let stand 5 minutes before serving.