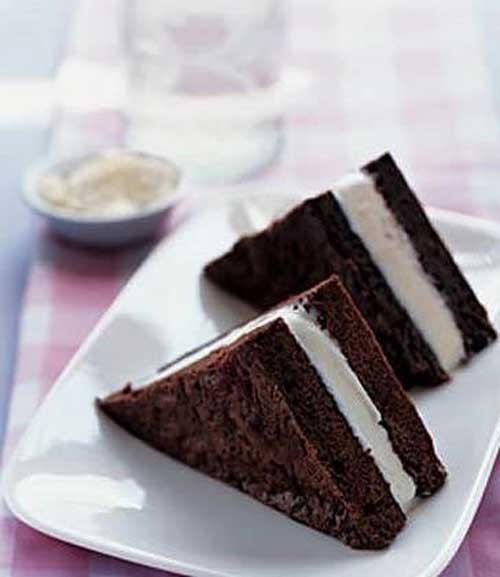 For an even faster version of this decadent dessert, substitute your favorite brownie mix. If you don't have 2 (8-inch) square baking pans, use disposable aluminum ones. Lining pans with parchment or aluminum foil simplifies lifting the brownies out and yields clean edges
Brownie Ice Cream Sandwiches

For an even faster version of this decadent dessert, substitute your favorite brownie mix. If you don't have 2 (8-inch) square baking pans, use disposable aluminum ones. Lining pans with parchment or aluminum foil simplifies lifting the brownies out and yields clean edges

Ingredients
1 (8-ounce) package semisweet baking chocolate
1 stick butter
1 cup sugar
4 large eggs
2 teaspoons vanilla extract
3/4 cup all-purpose flour
1/2 teaspoon salt
1 quart vanilla ice cream
1/4 cup white and semisweet chocolate chips (optional)
Instructions
Preheat oven to 350°. Cut aluminum foil or parchment paper long enough to fit bottoms of 2 (8-inch) square pans, allowing a 2-inch overhang on each end. Lightly coat foil with cooking spray.
Simmer chocolate and butter together in a small saucepan over low heat until melted. Cool slightly. Beat sugar and eggs at medium speed with an electric mixer 5 minutes or until light and fluffy. Gradually add melted chocolate mixture, beating until blended. Stir in vanilla. Fold in flour and salt until blended. Divide batter evenly among prepared pans. Bake at 350° for 13 to 15 minutes or until a tester inserted in center comes out clean. Cool brownies completely in pans on a wire rack; freeze in pans for 2 hours.
Spread 3 cups ice cream over 1 brownie layer in pan. Remove other brownie layer, and peel away foil; place over ice-cream layer, and press gently. Cover and freeze until firm, about 4 hours or overnight.
Remove from pan, remove foil, and cut into quarters. Cut each quarter diagonally to form 8 triangles. If desired, place chocolate chips into 2 small zip-top plastic bags; seal. Microwave 30 seconds at a time until chocolate melts. Snip a tiny corner from 1 side of bag; drizzle melted chocolate over bars. Serve immediately.
Recipe and Photo courtesy of: MyRecipes.com