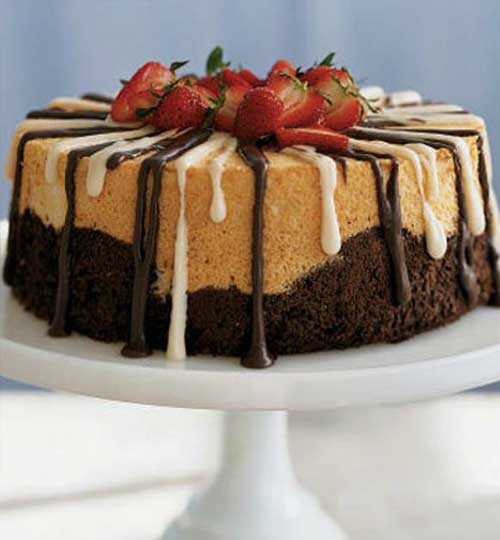 To prevent "weeping" in an angel food cake, check to make sure that your oven is properly calibrated. If the oven is running cooler than your temperature dial is telling you, your cake may not rise as much. Here's what happens: when the cake takes longer to bake, the sugar absorbs more liquid from the egg whites. (When the cake bakes faster, those egg white "dry out" more quickly.) As the sugar absorbs the liquid, it gets a little syrupy, which is the weeping that you see.
Ingredients
1 cup cake flour (about 4 ounces)
1 1/2 cups granulated sugar, divided
1/2 teaspoon cream of tartar
1/4 teaspoon salt
12 large egg whites
1 teaspoon fresh lemon juice
1/2 teaspoon vanilla extract
2 tablespoons unsweetened dark cocoa (such as Hershey's Special Dark)
Glaze:
1 1/2 cups powdered sugar
2 tablespoons tub light cream cheese, softened
1 tablespoon 1% low-fat milk
1 teaspoon vanilla extract
3/4 teaspoon unsweetened dark cocoa (such as Hershey's Special Dark)
Topping:
Sliced strawberries (optional)
Instructions
Preheat oven to 325°.
To prepare cake, lightly spoon flour into a dry measuring cup; level with a knife. Combine flour and 3/4 cup granulated sugar, stirring with a whisk; set aside.
Place cream of tartar, salt, and egg whites in a large bowl; beat with a mixer at high speed until foamy. Add remaining 3/4 cup granulated sugar, 1 tablespoon at a time, beating until stiff peaks form. Beat in juice and 1/2 teaspoon vanilla. Sift flour mixture over egg white mixture, 1/4 cup at a time; fold in after each addition.
Spoon half of batter into an ungreased 10-inch tube pan, spreading evenly. Break air pockets by cutting through batter with a knife. Sift 2 tablespoons cocoa over remaining batter; fold in. Spoon cocoa batter evenly over top of vanilla batter; break air pockets by cutting through cocoa layer with a knife. Bake at 325° for 55 minutes or until cake springs back when lightly touched. Invert pan; cool completely. Loosen cake from sides of pan using a narrow metal spatula. Invert cake onto a plate.
To prepare glaze, place powdered sugar, cream cheese, milk, and 1 teaspoon vanilla in a medium bowl; beat with a mixer at medium speed until smooth. Drizzle half of glaze over cake.
Add 3/4 teaspoon cocoa to remaining glaze; stir well to combine. Drizzle cocoa glaze over cake. Refrigerate 5 minutes or until glaze is set. Garnish with strawberries, if desired.
Recipe adapted from and Photo courtesy of: Myrecipes.com