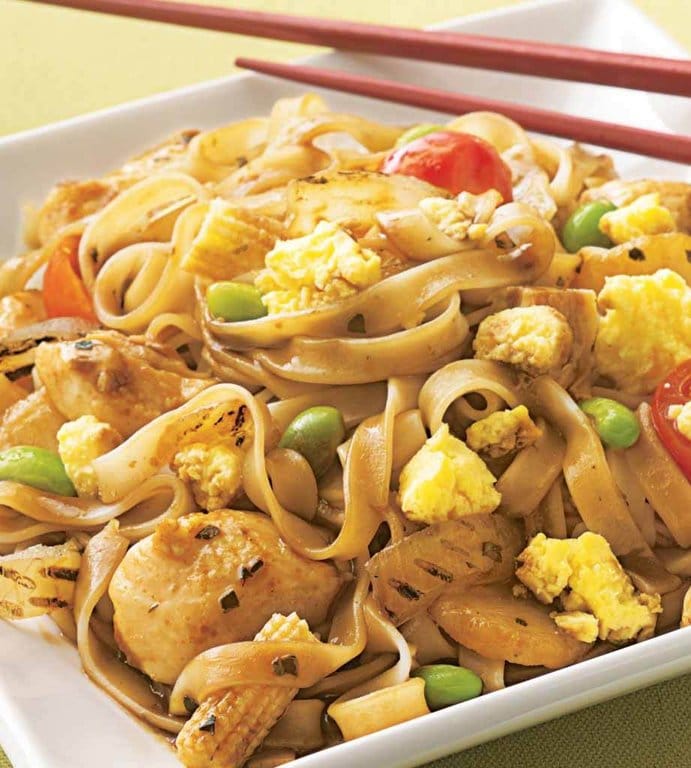 Ingredients
1/3 Cup Rice Wine Vinegar
1/3 Cup Soy Sauce
1/3 Cup Fish Sauce
4 Tablespoons Sugar
3 Tablespoons Lime Juice
3 Tablespoons Sambol
5 Cloves Garlic
10 Thai Chiles
2 Shallots
1/4 Cup Fresh Green Peppercorns
1 Pound Boneless Skinless Chicken Breast
1 Can Baby Corns
2 Eggs
2 Tomatoes
10 Green Beans
1 Onion
5 Servings Rice Noodles
Basil
Cilantro
Green Onion
Instructions
Mix the first 6 ingredients to form the sauce for the dish.
Make a paste from the garlic, chile, and shallot. You can use a food processor, mortar and pestle, or just go at it with your knife for awhile. Remove the seeds from the chiles before adding to the paste, but if you are daring, leave the seeds from one or two.
Rip the basil and cilantro leaves off the stalk and maybe rip the basil leaves a few times to make them smaller.
Cut the green onion into rings.
Rinse the baby corn.
Cook your noodles according to package instructions and give them a quick rinse.
Run a knife through the fresh peppercorns, just to break them up a bit.
Thin slice the onion, tomato, chicken, and the baby corn.
At this point, everything should be prepped and ready to cook!
Get your pan super hot with a little veg oil. Start with the paste and peppercorns and cook for about 1 minute, stirring constantly.
Add the chicken and keep stirring, about 2 minutes.
Next the green beans and onions. The pan should still be super hot and sizzling loudly. Cook 3 minutes
Make a spot in the center of the pan and add the eggs. Keep stirring!
Add the noodles, followed by 3/4 of the sauce
Add the tomatoes and baby corn. Stir around and decide if it needs the rest of the sauce or not.
Add the basil and remove from heat. Serve and garnish with green onion and cilantro.