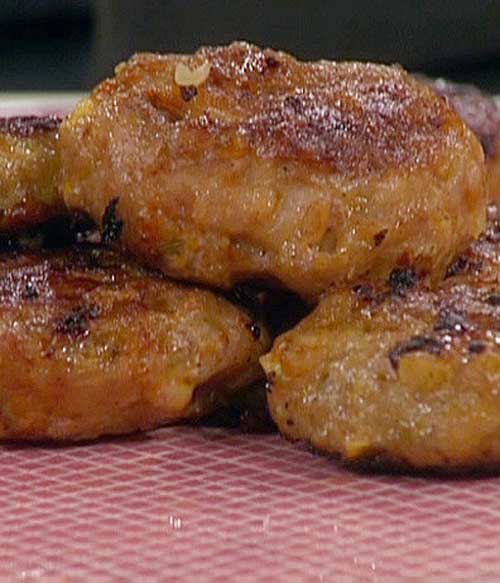 Recipe for Apple Chicken Sausage Patties – These homemade sausage patties are lower in fat thanks to ground chicken, and more nutritious with apple!!
Ingredients
1 tablespoon butter
1 green apple, finely chopped
1 small onion, finely chopped
Salt and pepper
1 teaspoon fennel seed
1 1/2 pounds ground chicken breast
1 1/2 teaspoons poultry seasoning
1 teaspoon allspice
1 teaspoon sweet paprika
Extra-virgin olive oil, for drizzling
Instructions
Heat a small nonstick skillet over medium heat. Add butter and melt. Add apples and onions and season with a little salt, pepper and fennel seeds. Gently saute the mixture 5 minutes to soften and remove from heat to cool.
Heat a griddle pan or large nonstick skillet over medium-high heat.
Place chicken in a bowl and season with salt and pepper, poultry seasoning, allspice, paprika and a healthy drizzle of extra-virgin olive oil. Add in the apples, onions and fennel and mix the sausage. Score meat into 4 sections and form 3 small, thin patties from each section, 2 1/2 inches across, 12 small patties total. Cook patties 3 to 4 minutes on each side and serve warm.
Recipe and Photo courtesy of: Foodnetwork.com