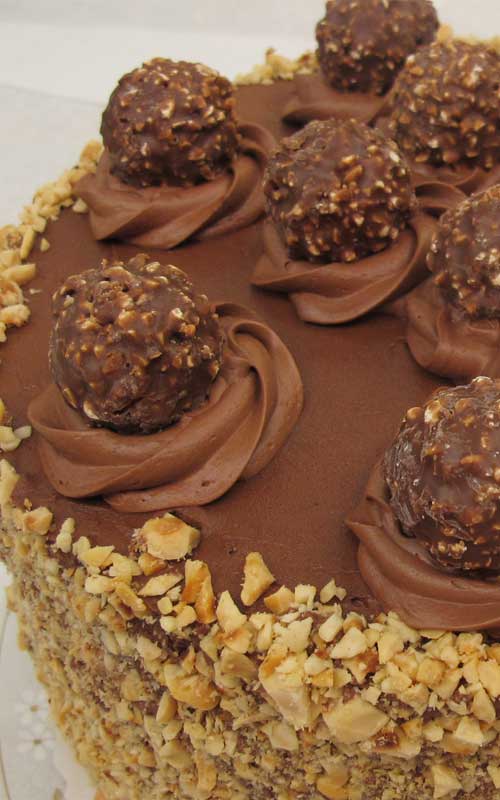 This sinful 5-Layer Ferrero Rocher Nutella Dream Cake surpassed my vision! The cake was light, moist, and delicious (all must-haves!) and the "Nutella Cloud Frosting" certainly tasted like a dream! (Even as a non-frosting eater, I found myself licking my fork!)
5-Layer Ferrero Rocher Nutella Dream Cake

This sinful cake surpassed my vision! The cake was light, moist, and delicious (all must-haves!) and the "Nutella Cloud Frosting" certainly tasted like a dream! (Even as a non-frosting eater, I found myself licking my fork!)

Ingredients
Cake:
3 cups all purpose flour
1 ½ tsp salt
¾ tsp baking powder
1 ½ tsp baking soda
2 2/3 cups sugar
1 cup + 2 Tbsp unsweetened natural cocoa
1 cup + 2 Tbsp water
1 cup + 2 Tbsp canola oil
5 large or 4 extra large/jumbo eggs
¾ cup water
1 ½ tsp vanilla
Frosting
1 cup (2 sticks) unsalted butter, softened but cool
1-1/2 cups icing sugar (confectioners'), sifted
2 teaspoons pure vanilla extract
3/4 cup premium bittersweet chocolate, chopped, melted and slightly cooled
1/3 cup Nutella
1 tablespoon milk
pinch of salt
Garnish
Ferrero Rocher candies
Crushed hazlenuts
Instructions
Cake:
Preheat oven to 350°F.
In a large bowl, vigorously whisk together flour, salt, baking powder, baking soda, sugar, and cocoa.
Add 1 cup and 2 tablespoons of water and 1 cup and 2 tablespoons of canola oil. Mix for 1 minute.
Add eggs, 3/4 cup of water, vanilla. Mix 5-6 minutes with a whisk, 3-4 minutes with a hand mixer, or 2 minutes with a KitchenAid mixer.
Pour into three 10" cake pans, bake at 350°F for 25-35 minutes (adjust for convection); test by placing and removing a toothpick through the center at 25 minutes. When toothpick comes out clean, loosen from pans and then put back in the pans. Let cakes cool for 15 minutes. Keep in the pans, wrap in foil, and put in the freezer for at least 2 hours.
Frosting
In a bowl of stand mixer fitted with paddle attachment, combine the icing sugar and butter and beat on low speed (I use #2 on my KitchenAid mixer) for about 1 minute.
Add vanilla, and beat on low speed until well combined. Add the melted and slightly cooled chocolate and beat on medium speed until smooth, about 2 minutes.
Add the Nutella, milk and pinch of salt, and beat on med-high speed for another minute.
Recipe and Photo: at 350 degrees