Easy Falafel with Lemon Tahini Sauce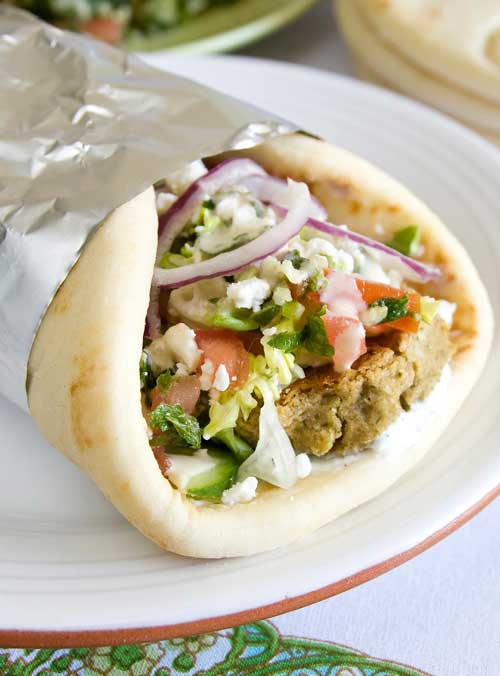 Recipe for Easy Falafel with Lemon Tahini Sauce – Who needs take-out when you can make perfectly delicious falafel at home?
Easy Falafel with Lemon Tahini Sauce
Ingredients
Falafel

1 16oz can chickpeas, drained and rinsed
2 Tbsp. fresh parsley
½ yellow onion, chopped
4 garlic cloves, minced
1 Tbsp. ground cumin
1 Tsp. ground coriander
2 Tbsp. cooked bulgar wheat
2 Tbsp. whole wheat flour

Lemon Tahini sauce

¼ cup tahini
juice from two lemons
½ Tsp. paprika
1 garlic clove, minced

Wrap

4 pitas
1 tomato, diced
½ red onion, finely sliced
½ cucumber, halved and sliced
1 cup green leaf or romaine lettuce, shredded
¼ cup tzatziki (optional)
½ cup feta cheese, crumbled (optional)
½ cup tabouleh
Instructions
In a food processor combine all falafel ingredients and pulse until smooth. Place in a sealable container and refrigerate for at least one hour.
Preheat oven to 400. Spray a cookie sheet with cooking oil, set aside.
Scoop two tablespoons of mixture and roll with your hands to create a ball. Place on prepared cookie sheet. Repeat for all the mixture. Makes about 12 equally sized falafel balls.
Brush falafel with olive oil and bake in the oven for 20 minutes. You can opt to broil them for an additional 2 minutes to brown the tops.
In the meantime combine all ingredients for the lemon tahini sauce in a small bowl. Whisk until smooth; set aside.
To assemble spread tzatziki over four warmed pita's. Top with three falafel ball, diced tomato, red onion, cucumber and lettuce. Drizzle with lemon tahini sauce and sprinkle with feta cheese and tabouleh. Fold the pita and secure with tin foil. Serve warm.
http://flavorite.net/2015/08/31/easy-falafel-with-lemon-tahini-sauce/
If you need a recipe for the tzatziki, you can get it by clicking here!
If you need a recipe for thetabouleh, you can get it by clicking here!
Recipe and Photo: Munchin with Munchkin