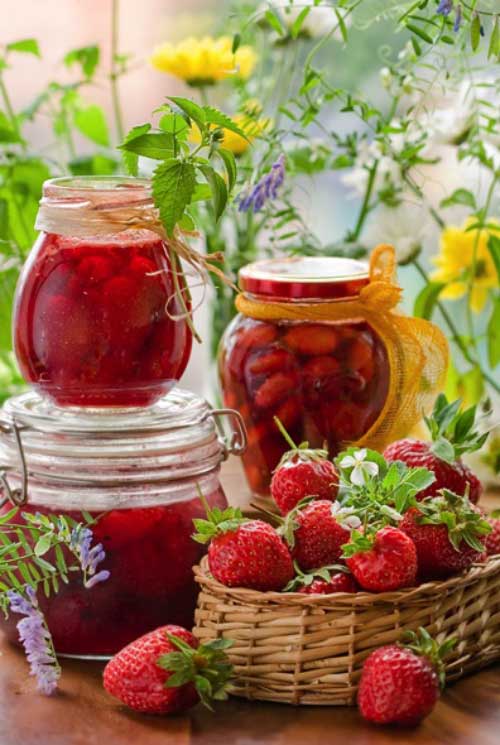 Recipe for Strawberry Preserves – Canning is not rocket science. But it is a science. There are principles of canning, and they need to be carefully followed
Strawberry Preserves

Canning is not rocket science. But it is a science. There are principles of canning, and they need to be carefully followed

Ingredients
6 cups prepared strawberries (about 2 quart boxes strawberries)
4½ cups sugar
1 lemon juiced and zest (optional)
Instructions
Please read Using Boiling Water Canners before beginning. If this is your first time canning, it is recommended that you read Principles of Home Canning.
Procedure: Sterilize canning jars and prepare two-piece canning lids according to manufacturer's directions.
To prepare fruit. Select large, firm, tart strawberries. Wash and drain berries; remove caps.
To make preserve. Combine prepared fruit and sugar in alternate layers and let stand for 8 to 10 hours or overnight in the refrigerator or other cool place. Heat the fruit mixture to a boiling, stirring gently. Boil rapidly, stirring as needed to prevent sticking. Cook to 9 degrees F. above the boiling point of water, or until the syrup is somewhat thick (about 15 or 20 minutes). Remove from heat; skim.
Fill hot preserves immediately into hot, sterile jars, leaving ¼ inch headspace. Wipe rims of jars with a dampened clean paper towel; adjust two-piece metal canning lids. Process in a Boiling Water Canner.
Recipe and Photo courtesy of: nchfp.uga.edu