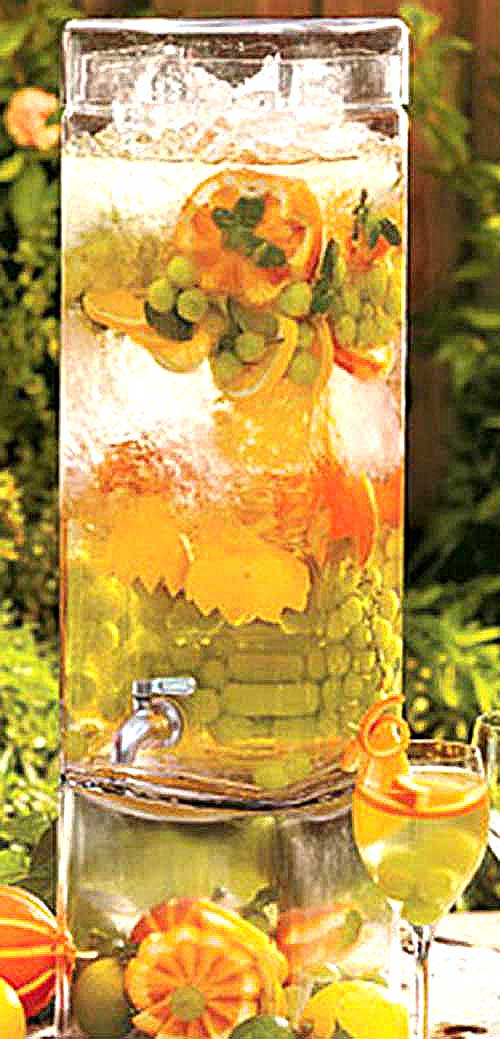 Recipe for Luxurious Spa Water – The glorious fruit and herb infused waters they always have available to you at a luxury spa. Below you'll find 12 flavor blends.
Ingredients
Slices of ripe peaches and one split vanilla bean.*
Fresh sprigs of rosemary and mint with thin lemon, lime, and cucumber slices.
Blackberries or strawberries, fresh sprigs of lavender, and lime slices.
Slices of oranges, limes, grapefruit and lemons with a large bunch of seedless red grapes that have been sliced in half.
Sliced fresh pineapple, two or three slices of fresh ginger, and a handful of mint sprigs.
Orange slices and one split vanilla bean
Peeled kiwi slices, lime slices, and mint.
Fresh strawberries – sliced in half (leave the calyx on – that's the green leafy part) and a handful of fresh basil.
Thin lime slices, a handful of blackberries, and mint sprigs.
Slices of fresh pineapple, watermelon, cantaloupe, and lime.
Sliced strawberries, lemons, and mint.
Thinly sliced orange, and slices of fresh ginger and stalks of lemongrass that have both been slightly smashed.
Instructions
For the Citrus and Grape Spa water pictured above use three each limes, lemons, and oranges, bunch of grapes half a batch of fresh mint, for a gallon a water. You can adjust those quantities how you want, or play around with other combinations, like cucumber, melon or list of other ingredients. The key really is just to use a generous amount of fruit and herbs, and lots of ice too, to really up the refreshing factor.
Recipe courtesy of: LesPetitesGourmettes.com
Photo courtesy of: IronAccents.com