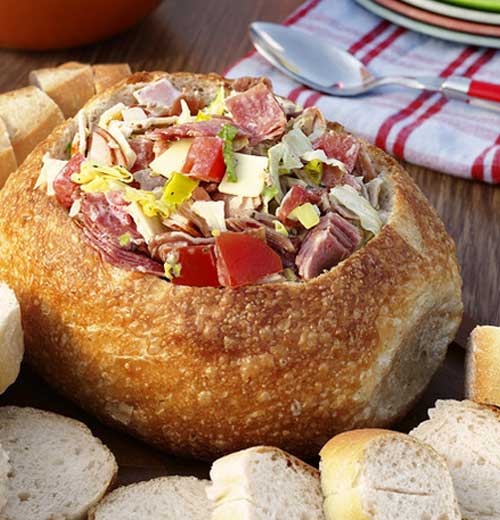 This is absolutely delicious! You can use any deli meat you like. I added turkey and bologna and it was a HUGE hit at the party. I used sliced baguette instead of the bread bowl and put out leaf lettuce for those who prefer a low carb version.
Ingredients
1 medium onion
2 pickled pepperoncini peppers
1/2 head iceberg lettuce
1 large tomato, halved and seeded
1/4 pound deli-sliced genoa salami
1/4 pound deli-sliced ham
1/4 pound deli-sliced prosciutto
1/4 pound deli-sliced roast turkey
1/4 pound deli-sliced provolone cheese
1/2 cup mayonnaise
1 tablespoon extra-virgin olive oil
1 teaspoon dried oregano
1 1/2 teaspoons dried basil
1/4 teaspoon red pepper flakes
1 10-to-12-inch round loaf Italian bread
8 hoagie rolls, cut into pieces, for dipping
Instructions
Chop the onion, pepperoncini, lettuce and tomato into bite-size pieces. Dice the meats and cheese.
Combine the chopped vegetables, meats and cheese in a large bowl. Add the mayonnaise, olive oil, oregano, basil and red pepper flakes and stir until everything is all mixed up and tasty. Refrigerate until ready to serve.
Carve out the center of the bread loaf to make a bowl (don't cut through the bottom) and cut the scraps into bite-size pieces. Serve the hoagie dip in the bread bowl, with the extra bread and hoagie rolls to scoop it up.
Recipe originally published at http://www.foodnetwork.com/recipes/mary-alices-hoagie-dip-recipe/index.html